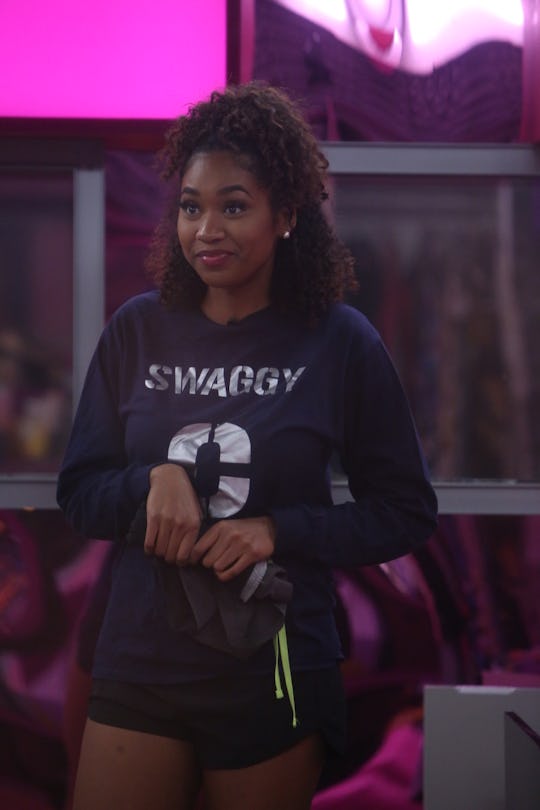 Monty Brinton/CBS
Bayleigh Is The Final 'Big Brother' Houseguest To Win A Power App This Season
The power apps and crap apps of the techy season of Big Brother were fun while they lasted, but when Bayleigh received her power, it was the final one of the season. Thankfully, it's not something she'll have to use right away and it could mean crucial power for her later on down the line. Since it's a new one, viewers are probably a little confused as to what Bayleigh's power app on Big Brother does. Long story short, she'll be flying high for a little while.
Like Sam's bonus life app, which will allow one evicted houseguest the chance to win a place in the house directly after being evicted, Bayleigh's is another game changer. The one she chose, called identity theft, can be used up until the time there are eight remaining houseguests left. Right now there are 16, so that gives her a really long time to hold that in her back pocket for a rainy day. The app is a little more complicated than Sam's, but it's probably the best one Bayleigh could have chosen without knowing what any of the other power apps could do for her.
The identity theft app, when put into play, will allow Bayleigh to change the eviction nominations in secret, without anyone else in the house knowing about it, including the reigning head of household that week. Then, when the head of household reveals their nominations, Bayleigh's will show up on the screens instead, thereby officially putting her power into effect. The HOH will, however, still control the power of veto renomination that week.
Not only does this mean that Bayleigh herself is safe until she's forced to use the app, but as long as she doesn't tell too many people about it, she can keep her hands clean for the most part. I do think it's one of the more powerful apps Bayleigh could have been granted. It essentially makes her the HOH, if only in the sense that she controls the initial nominees.
The power app probably couldn't have come at a better time for Bayleigh. She was the most trending houseguest shortly after Swaggy C was voted out of the house, much to her surprise, and viewers felt her pain. What better way to make her feel better after losing her boyfriend and best friend in the house than to give her the chance to pick an amazing power app, am I right?
Unlike Sam's bonus life app, the identity theft twist is good for several more weeks and once there are the final eight houseguests left in the house, things can start to get a little intense. I don't know if Bayleigh will wait that long to use it or if she'll need to use it before it gets to that point, but it gives her several more weeks to play her game and feel a little comfortable just in case she eventually becomes a target herself.
On Big Brother, the game is all about manipulating other houseguests and trying to get them to do your bidding without them realizing it wasn't their own idea in the first place. Tyler has done an amazing job of this so far this season and has also managed to be a lot more likable than past Big Brother puppet masters. Cough, Paul Abrahamian, cough.
Bayleigh's power app will enable her to do this but will very little consequences, if any at all. She'll be able to take control of the nominations if and when she needs to and won't have to put any work into it. It sounds like a win-win situation to me, but let's just hope she can hold off on using it until she absolutely has to for her own game.