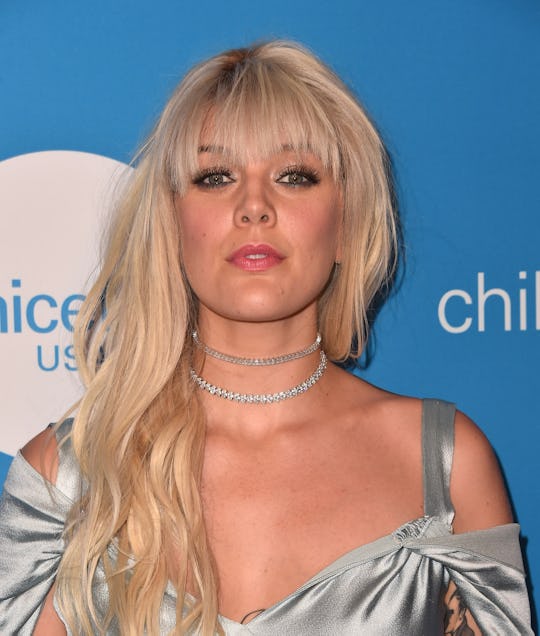 Alberto E. Rodriguez/Getty Images Entertainment/Getty Images
'The Bachelorette' Isn't The First TV Show To Feature Betty Who's Music
The Bachelorette is no stranger to live musical performances during one-on-one dates. Usually, it's a country singer belting out some hopeful love song and nine times out of ten, it involves an awkward slow dance. On Becca Kufrin's season of The Bachelorette, there have already been a few different musical guests and next on the list is Betty Who, whose music Becca just so happens to be a fan of. So what does Betty Who sing? The Bachelorette isn't the first show to feature the pop singer and since she's just 26 years old, chances are it won't be the last.
Some viewers might have already heard her sing on Netflix's reboot of Queer Eye, for which she remixed the original theme song. But other than that, she has a few other hits that have made their way onto various music charts, gaining her increasing popularity over the past few years. In 2014, she climbed to the number one spot on the Billboard Dance Chart for the first time ever with her single "Somebody Loves You."
The song definitely gives off some 80's dance pop vibes, but that could be partly because the music video for the song is very much '80s-themed — complete with lots of hairspray and leg warmers.
In February, a music video was released for Who's single "Ignore Me" and has more than 600,000 hits on YouTube at this time. But most recently, she put out a video for her song "Taste" and it will most definitely make you want to get up and dance.
Since reaching number one on the Billboard Dance Chart in 2014, Who managed to find herself in the number one spot two other times in the two years that followed. For an artist who isn't quite mainstream, that's a pretty impressive feat. She has six albums out right now in total and they can be found on Amazon, iTunes, Google Play, and Spotify for your listening pleasure. She's also out on tour right now promoting her most recent album, Betty Pt.1.
According to a press release, The Bachelorette hometown dates will feature Becca and Blake's visit to his former high school, where he reveals to Becca a life-changing event that occurred during his teen years. This is followed by a live concert from Who, so perhaps the whole experience will bring the couple even closer together. At least, that's probably the point. And something tells me that Who's upbeat and totally catchy music will help him in doing just that.
Her music is like a healthy mix of electronic and pop music that doesn't necessarily feature a beat drop or otherwise EDM type of effects, but is unique in its own way and a little bit different than what you might find if you turn on your average top 40 radio station. Even if we don't get to hear any of her songs in their entirety on The Bachelorette, her music is worth a listen on its own. Maybe, just maybe, it will also open the door for more similar artists to appear on the franchise in the future.