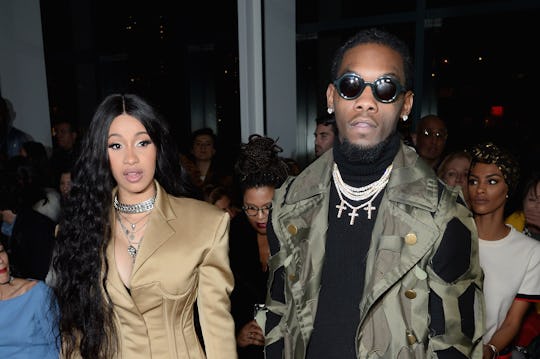 Andrew Toth/Getty Images Entertainment/Getty Images
This Is The Meaning Behind What Cardi B Named Her Daughter
Cardi B took to Instagram on Wednesday to announce the birth of her first daughter. The rapper revealed that she and her husband, Offset, named the baby Kulture Kiari Cephus. And naturally, fans want to know the meaning behind Offset and Cardi B's baby's name. So, what's the story behind the unique moniker? The name is rooted in creativity, just like Cardi B and Offset.
It's no secret the last trimester of pregnancy was difficult for Cardi B. Not only was Cardi B struggling to get it on with Offset (her tweet about pregnancy sex is all too real), but she was also uncomfortable. "Shorty keep growing and I be looking like I be moving and everything, but in reality, a b***h barely can breathe," Cardi B confessed on Instagram in April, according to Us Weekly. Ah, the joys of pregnancy.
The good news is Cardi B made it to the finish line on Tuesday, just three months after she revealed her pregnancy on Saturday Night Live. "Kulture Kiari Cephus 07/10/18 🎀🌸 @offsetyrn," Cardi B captioned a stunning maternity shot of herself, according to Instagram.
Talk about a special and unique name, right? I don't think fans saw this one coming.
Following Cardi B's big reveal, fans took to the post's comments section to comment on the distinctive moniker. Overall, reactions were mixed.
"Congrats!! I loveee the name," someone said, according to Instagram.
"U are going to be a great mother...," one fan wrote. "Love her unique name as well. BABY KULTURE."
"Such a unique name cardi, congrats," another person agreed.
Others weren't as kind.
"Cardi wtf cardi - kulture .... a little girls name is kulture," a commenter penned. "One of the worst bro."
"What name is this...," someone else piped in.
"Congrats sis why didn't you ask me about the name choice tho," a fan joked.
Of course, it doesn't matter what fans think about Cardi B's baby's name. What's important is Cardi B and Offset's happiness, as well as the meaning behind the name. And on that note, what inspired Cardi B and Offset to choose the moniker Kulture? The reasoning is multilayered.
The first thing to note is Offset's musical group, Migos, named two of their albums Culture. In 2017, the group released Culture, and in 2018, they debuted Culture II. It's definitely possible Kulture represents Offset's creative aspirations and successes. I stand behind this theory because Offset was the one to name Kulture. "My dude named the baby," Cardi B told Ellen DeGeneres in April, according to the New York Daily News. "I'm gonna let him say the name since he named the baby."
As for why Offset and Cardi B decided to go with a "K" instead of a "C," I assume they did it to make the name even more unique.
Secondly, it's interesting to consider the definition of culture. Culture is defined, according to Oxford Dictionaries, as "the arts and other manifestations of human intellectual achievement regarded collectively." Sounds like little Kulture has a lot to live up to. I don't doubt, however, that Kulture will grow up to be as creative and accomplished as her musical parents.
Oh, and if you're wondering about the meaning of Kulture's middle name, Kiari, it's another homage to Offset. The rapper's real name is Kiari Kendrell Cephus. I guess the couple decided to incorporate a bit of tradition into Kulture's moniker.
No matter whether you like the name or not, it's clear Cardi B and Offset put a lot of thought into their baby girl's moniker. Kulture represents the pair's mutual creativity, and Offset's achievements. So, here's to Kulture and the bright future her name implies.