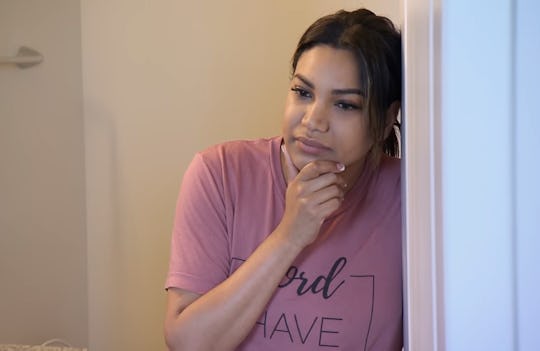 Liftime/YouTube
Mia's Family Was Unsure Of Tristan On 'Married At First Sight'
This season of Married at First Sight has included a lot surprises concerning Mia Bally. Before Mia and Tristan could go on their honeymoon, Mia was arrested at the airport. Following the incident, Mia and Tristan had to come together to decide whether or not they would move forward with their marriage. Though they chose to stay married, Tristan's family, specifically his mother, still had some concerns. But what does Mia's family think of Married at First Sight and the whole situation in general?
At the start of the season, fans, and Tristan, met Mia's family. During the third episode, the couple's families came together and Mia's dad, Indar, made it clear in his confessional that he was still "uneasy" about the marriage. "We don't know Tristan at all," he said. "Mia's my daughter and if anything happens to her we will have some issues."
However, by the end of brunch, Mia's dad seemed to come around. "I'm extremely happy for her. On the surface, he seems like a nice guy," he said. "But it's like reading a book, if you just read the front and the back you really aren't going to know what's in the book. You have to read the book in detail to understand and that's the same thing with people. Looking at the surface they all look fine and dandy until you know them better."
It turns out he was right, but maybe Tristan should have been the one paying attention. Tristan later discovered that Mia was arrested because of charges of stalking and fraud. According to police records obtained by Monsters and Critics, Mia was allegedly stalking her ex-boyfriend, Jared Evans. Jared claimed that Mia harassed and repeatedly stalked him for several months after they split up around Christmas 2016. Jared filed reports with the police department in Monroe, Louisiana against Mia twice in 2017 and twice again in 2018.
Mia allegedly showed up at his home and his place of employment in June 2017. Later, in August 2017, Mia was allegedly calling and texting Jared again and reportedly showed up at his house. Then in January 2018, Jared logged another complaint with the Monroe Police Department, in which he claimed Mia had texted him over Facebook, telling him she got him a present.
According to the police report, Mia had ordered an iPhone and two protection plans on Amazon, but they were charged to Jared. Following this incident and another one also in January, the police then put out the arrest warrant for Mia, which is when she was detained in the airport. Though the charges were dropped, Tristan and Mia obviously had a lot to work through after that, mainly due to trust issues. At first, Mia had lied about the situation before confessing the truth to Tristan. Although the couple seemed to move on from it, in the most recent episode the issue of trust rose up again.
One of Tristan's friends sent him screenshots of Mia's Tinder profile. Mia tried to explain that the account was deactivated and she deleted the app a long time ago, but Tristan did not believe her. He even told her that because of all the trust issues he could not fall in love with her. It was not until they sat down to talk with Dr. Jessica that Tristan realized it was not only a trust issue, but he also had resentment towards Mia after the arrest and everything that transpired from there.
Thankfully, Dr. Jessica was able to help Tristan and Mia come to an understanding and they were still willing to make their marriage work. Whether or not they are truly successful remains to be seen.