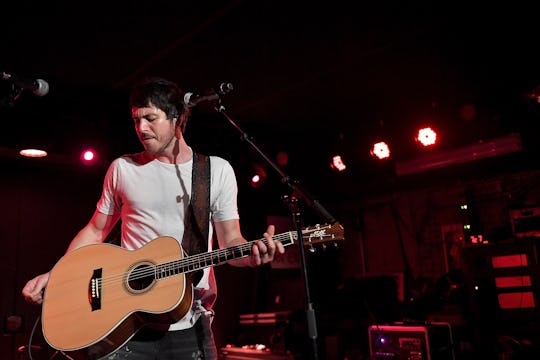 Michael Loccisano/Getty Images Entertainment/Getty Images
Morgan Evans Is Going To Serenade Becca On 'The Bachelorette'
This Bachelorette season is fully underway, and with it are guest stars. It's been a very musical season so far — two of the guests have been music legends Richard Marx and Wayne Newton. Up next is a country singer: Morgan Evans. If you haven't heard of him, you may wonder what does Morgan Evans sing? The Australian singer/songwriter makes an appearance on The Bachelorette.
Morgan Evans made his self-titled debut in 2014, which peaked at number one on the Australian country music charts. He even hosted the Australian CMC Country Music Awards from 2015 to 2017. Last year really was a milestone year for Evans, though, and proves why he is the perfect singer for the show: he's a newlywed himself.
In 2017, Evans relocated to Nashville where he signed with Warner Music Nashville. Not only that, but Evans married fellow country singer Kelsea Ballerini in December. The two reside in Nashville, of course. Only days later, Evans released his single called "I Do" about his marriage. I have to say, that's pretty adorable, and goes along neatly with the theme of The Bachelorette. "Wrote it about my girlfriend. Recorded it about my fiancé. Releasing it about my wife," Evans said about the song on Twitter.
In addition to "I Do," his most well-known song to date is called "Kiss Somebody." Funnily enough, this is not about Ballerini — it's actually about a friend of his. "It reminded me of a story that I'd just been telling on the weekend of this guy I used to stay with before I moved to Nashville. And I used to stay with him instead of staying at a hotel. And he had this girl, and I got to know them both, and they broke up, and he was completely heartbroken," he explained to Sounds Like Nashville. He continued, "And I was there with him through that time for a few weeks. I went back to Australia, came back a year and a half later, and he's still heartbroken over this girl. And I was like, dude, you need to kiss somebody."
Wise words! After "Kiss Somebody," Evans released a song called "Day Drunk." He just released the music video for "Day Drunk," which features both Morgan Evans and his wife Kelsea Ballerini going on a Hawaiian adventure. The two recorded their vacation with a GoPro. Evans said the song was inspired by Ballerini's birthday. "I've never been the drinking song guy, but this song came from a real place and is really more about spending a day with your person than it is about just going getting drunk," Evans told ET. "There's a reason why I love it so much and feel like I can sing it."
Ballerini had apparently had a whole elaborate plan for her birthday, and Evans ran along with it and loved it. At some point she said, according to Evans's interview with ET, "'Can we just shut the front door and maybe just open a bottle of champagne and start there?' And that's all we did and it ended up being an awesome day." Goals? Yes, goals.
Morgan Evans's new album is expected this fall, so fans can get excited to hear new music post-Bachelorette. ABC News Radio released that Evans will sing "Kiss Somebody" to Becca and a date on Monday night, which is certainly more exciting (to me, anyway) than the usual singers they have on the show. Maybe Becca will love Evans so much he'll sing "I Do" at her wedding...Okay I'm getting ahead of myself, but Monday's Bachelorette is definitely one to watch, for Evans and of course to see more of Becca's ~journey~ to find love.