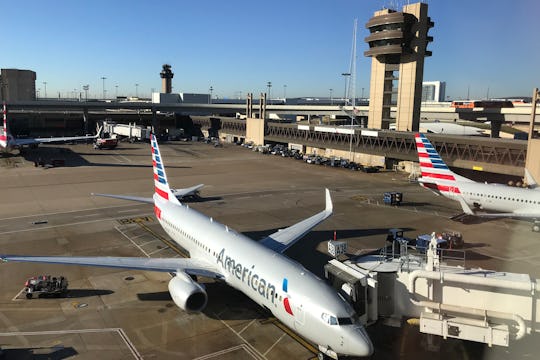 DANIEL SLIM/AFP/Getty Images
Here's What You Should Know About The NAACP's American Airlines Travel Advisory
There are countless ways in which generations of institutionalized racism affects people of color in America on a daily basis, and the current political climate only seems to have made that more apparent. But on Tuesday night, civil rights organization the National Association for the Advancement of Colored People (known as the NAACP) issued a specific warning for any African Americans who have plans to travel with American Airlines. What does the NAACP's American Airlines warning mean? The group is advising travelers to exercise caution when flying with the airline, after an alleged "pattern of disturbing incidents reported by African-American passengers" was identified. While the NAACP hasn't advised travelers to avoid flying with the airline, it has urged black passengers to consider that "booking and boarding flights on American Airlines could subject them disrespectful, discriminatory or unsafe conditions."
In a statement in response to the NAACP's warning, according to USA Today, the airline said that it was planning "to invite representatives from the NAACP to meet with airline officials at their headquarters in Fort Worth, Texas," to further discuss the issue. The statement also said that American Airlines was "disappointed to hear about this travel advisory," and that its "diverse community" of staff are "proud to serve customers of all backgrounds," and are "committed to providing a positive, safe travel experience for everyone who flies with [American Airlines]."
In a press release issued by the NAACP Thursday, the organization outlined a "series of recent incidents" involving alleged "troublesome conduct by American Airlines ... [suggesting] a corporate culture of racial insensitivity and possible racial bias." The statement refers to four specific alleged incidents, three of which the NAACP says involved African American passengers being removed from American Airlines flights. In one case, the organization claims that an African-American man traveling from Washington D.C. to Raleigh, North Carolina was removed from a flight because he responded to "disrespectful and discriminatory comments directed toward him by two unruly white passengers." In another, the NAACP claims an African-American woman's seat assignment was switched from the first-class ticket she had originally purchased to coach — even though her white companion whose ticket she'd also booked was reportedly allowed to remain in first class.
While the group refers to four alleged incidents in its advisory, the NAACP also said that they were likely only "the tip of the iceberg" when it comes to the actual "mistreatment of African-American customers," since speaking up about racial discrimination is not easy, and not everyone knows they have the right to do so. As a result, the NAACP said it determined that travel on American Airlines could "pose a substantial risk of harm to black Americans," which is why the travel advisory was ultimately issued.
It's not the first time though that the NAACP has raised alarm bells about what it considers to be a travel risk for black Americans. In August, the civil rights organization issued another travel advisory for the entire state of Missouri, and urged people to "exercise extreme caution" when traveling there, according to CNN. The advisory was the first time the group had issued a statewide warning, but the group argued that it was necessary after Senate Bill 43 was passed into law.
The law would make it more difficult for employees to prove that they had been discriminated against because of their race or gender, though the organization also notes that the law is far from being the only concern, according to CNN. Reports of widespread racism at the University of Missouri, for example, or data from the state attorney general that found "black drivers were stopped by police at a rate 75 percent higher than white drivers" also factored into the NAACP's decision to issue the warning.
So far, American Airlines hasn't offered any commentary on the specific incidents the NAACP referred to in its travel advisory, though the airline does seem to be indirectly denying that they were racially-motivated. It's also not clear at this point how the advisory might affect Americans' travel plans, or what could come of the reportedly-planned discussions between the NAACP and the airline.
Hopefully though, the NAACP's advisory will encourage all airlines to at least take a closer look at their policies and to take seriously any complaints or allegations of discrimination they've received. After all, no matter your stance on American Airlines specifically, there's no question that there's a lot that is problematic when it comes to the lack of equal treatment in this country. And it won't get any better if nobody is able to speak up about it.