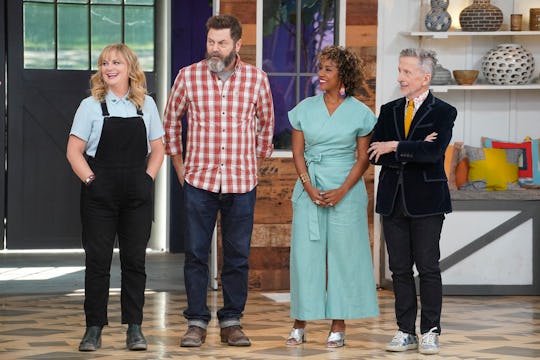 Paul Drinkwater/NBC
The Winner Of 'Making It' Will Take Home An Impressive Prize
There aren't many reality competition shows worth going on just for the experience of it rather than a monetary prize, but I would totally participate on Making It just to be in the presence of Amy Poehler and Nick Offerman. Since it is a competition, though, you have to wonder what the winner of Making It wins. Not only do they get the story of working with two of the most memorable TV comedy actors ever, but the winner also gets a hefty sum for beating out the competition in all things crafting.
The same eight contestants that begin the six-episode first season of Making It will continue to compete as they're eliminated, one by one, until the last contestant standing is crowned "Master Maker." Along the way, they're awarded different patches which are sewn into their smocks, Girl Scout style, but the contestant left standing at the very end will also walk away with a $100,000 prize.
There are only eight contestants in Season 1, but there were hundreds of auditions that took place to narrow down the list to the select few. And casual Pinterest crafters they are not, since the list of contestants on Making It includes an interior designer, an art teacher, and a paper prop maker for Tiffany & Co. With that kind of competition, it's no wonder that the grand prize is $100,000 rather than a gift card to the winner's favorite crafting store. Although I'd also happily welcome that as a grand prize, if given to me by Poehler and Offerman.
Making It isn't about a new batch of crafters each episode, so viewers will get to follow the challenges and crafts by the same contestants all season, even if your favorite crafter is booted off sooner rather than later. Each episode will have two different crafts, including one that is timed and meant to be completed as quickly as possible, and another "master craft" meant to show off each contestant's real skill. Simon Doonan, the creative ambassador for Barneys New York, and Dayna Isom Johnson, Etsy's trend expert, will serve as judges to eliminate one contestant each episode, narrowing down the list each week.
All of the projects are designed by Offerman and Poehler and they'll be on hand to give a running commentary and provide moral support. But for all intents and purposes, they're the hosts rather than fully involved in creating anything with the contestants. But from the sound of it, the Making It contestants won't need much help at all, especially with $100,000 on the line. According to USA Today, one of the challenges for the show's first season will involve the contestants making Halloween costumes from random found household items. Some of the challenges, Vanity Fair reported, also have either an outdoors or barn-like setting, depending on what they are.
Overall, each episode of Making It will be themed and have two different challenges that play into those themes, which will no doubt keep things extra interesting. That is, if things weren't interesting and exciting enough with Poehler and Offerman cracking jokes the whole time. Part of the goal in keeping things light, the president of NBC's alternative and reality TV group, Paul Telegdy, told Reality Blurred, was because Poehler's vision for the show was to bring the crafting community together rather than feature nothing but catty and cutthroat competitors.
Despite the hefty prize at the end of the tunnel, Telegdy said that the show has an air of "friendly competition [which] will focus on the character and camaraderie of the crafting community." And prize or not, you can't be mad at that.