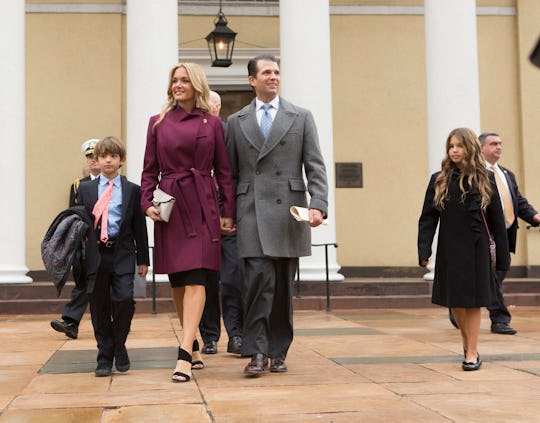 Pool/Getty Images News/Getty Images
Vanessa Trump Was Reportedly Rushed To The Hospital After Opening A Mysterious Package
The Trump family faced a medical scare Monday afternoon when Donald Trump Jr.'s wife had to be taken to the hospital. What happened to Vanessa Trump? President Donald Trump's daughter-in-law was sent to the emergency room as a precaution after opening a letter with a mysterious white powder, according to ABC News.
Trump opened the suspicious package, which was addressed to Donald Trump Jr., the oldest son of President Trump and ex-wife Ivana, after it was delivered to their apartment in New York City Monday morning, ABC News reported. Firefighters who were called to the scene decontaminated Trump and two other people at the residence before transporting them to the hospital. Police and emergency medical services were also dispatched to the Trump Jr. home shortly after 10 a.m. Eastern Time, according to ABC News.
Officials with the New York City Fire Department told NBC News that doctors at New York-Presbyterian Weill Cornell Medical Center were examining the 40-year-old former model strictly as a safety measure. The two other people present at the apartment were also being examined. Police officials said the unidentified powder was deemed to be non-hazardous, but will be further analyzed at a lab, according to NBC News.
Officials with the New York City Police Department told reporters that Trump had called 911 after opening the letter Monday, and told dispatchers that she was coughing and felt nauseous, according to The Boston Globe. Authorities also told The Boston Globe that the United States Secret Service is investigating the matter further. Secret Service Special Agent Jeffrey Adams said in a statement, according to The Globe,
The Secret Service and our law enforcement partners in New York City are investigating a suspicious package addressed to one of our protectees received today in New York, New York. This is an active investigation and we cannot comment any further.
The suspicious letter reportedly had a postmark from Boston and contained an angry note from the unknown sender, according to a source who spoke to ABC News. The source, however, did not elaborate on the contents of the package.
A few hours after his wife, Vanessa, was taken to the hospital, Donald Trump Jr. addressed the incident on Twitter, writing,
Thankful that Vanessa & my children are safe and unharmed after the incredibly scary situation that occurred this morning. Truly disgusting that certain individuals choose to express their opposing views with such disturbing behavior.
Other members of the Trump family have spoken out about the incident. First daughter and White House adviser Ivanka Trump took to Twitter Monday afternoon to address the situation, according to CNN, tweeting that she wished she was by Vanessa Trump's side, CNN reported. Ivanka added, "No one deserves to be frightened this way. There is no excuse."
President Trump's personal attorney Michael Cohen also commented on the incident, according to NBC News. Cohen said in a statement,
How disturbed must a person be to do what they did to a mother of five children? This dangerous and reckless act goes beyond political differences.
White House Press Secretary Sarah Huckabee Sanders told reporters that the president had been in touch with Vanessa Trump on Monday afternoon, according to CNN. President Trump had yet to tweet about the Monday morning emergency at the time of publication.
This is not the first time the Trump family got a suspicious letter laced with white paper in the mail. Trump Jr.'s brother, Eric, received an "angry" package at his apartment in Manhattan in March 2016, but the powder was considered non-hazardous, according to The Globe. Similar letters were sent to Trump Tower, site of President Trump's campaign headquarters, twice that year.