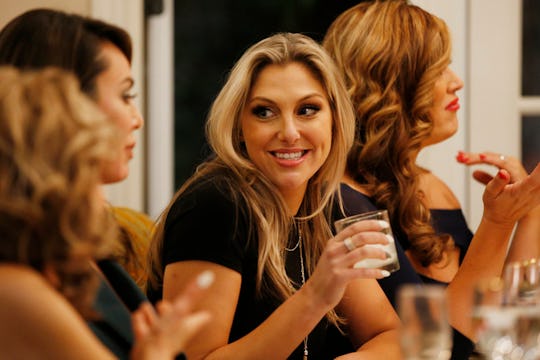 Phillip Faraone/Bravo
Gina Kirschenheiter's Ex-Husband's Job Prevented Him From Filming For 'RHOC'
On The Real Housewives of Orange County, Gina Kirschenheiter's husband's job came up time and time again even though he never made an appearance himself. The rest of his family lived in Orange County, but Matt Kirschenheiter worked and lived in Los Angeles during the week. Spending so much time away from them because of his career meant it became a discussion point in Season 13, leaving some fans wondering what Gina Kirschenheiter's ex-husband's job is.
Newsday reported that both Gina and Matt attended Hofstra University, where she studied psychology and he received a degree in Business Administration and Finance. Matt went on to become a financial planner. It seems like Matt is a private individual online, with little to no social media presence outside of regular appearances on Gina's Instagram. He doesn't even have a LinkedIn page, which makes it a little more difficult to get information on his professional endeavors. And that seems to be on purpose; as Gina told Newsday, the reason he didn't show up on RHOC was because of his place of employment.
"His employer did not want him to [appear on the show]," she said. "It wasn't a decision having anything to do with our relationship. Pure timing."
A look at the Hofstra alumni page turns up a Matthew Kirschenheiter who seems to share his specifics, though there's no picture to indisputably identify him. According to the Hofstra profile, Matt worked at Merrill Lynch from June 2006 to December 2007 before taking a job at Allianz Global Investors that lasted until February 2011. His last listed job is as the Vice President, Regional Manage at PIMCO Investments, which is stated as ongoing.
However, that might not be Matt's current job. The firm for PIMCO Investments is located in Newport Beach according to their website, but Matt works in Los Angeles. Gina also mentioned that the move to California occurred three years ago, which would be 2015. Perhaps Matt worked remotely for PIMCO or they had other offices, but it's not clear that he's still with that specific company.
Then again, a Meet Up event from July 2018 featured a Matt Kirschenheiter as one of the special guests from a "prestigious investment [company]." He would be there to "discuss their companies strategies for investing in this landscape." The meeting was set to occur in Los Angeles and listed Matt as the Vice President of PIMCO, so it could very well be Gina's ex. Perhaps he does still work for PIMCO after all, even if the timeline isn't totally clear from an outside perspective.
As Gina explained to Us Weekly after the divorce was announced, she thought initially that signing up for RHOC might be fun for her and Matt. As she said:
I think I did see it as an opportunity that would be good for us, 'cause we're buddies, we're friends, we're just going to navigate this together. And then when he couldn't film, and he's also away a lot, I think that it probably did have more of a negative effect on our relationship and made things harder. Now I'm basically going on this venture, and he's not included and involved in it, and it creates even more distance than is already there.
While the exact circumstances of Matt's employment are somewhat hazy, he does appear to work in finance in L.A. He has a steady job that keeps him from taking part in the shenanigans of RHOC, but curious fans can always give Gina's social media a quick perusal to get to know more about her family.
This article was originally published on