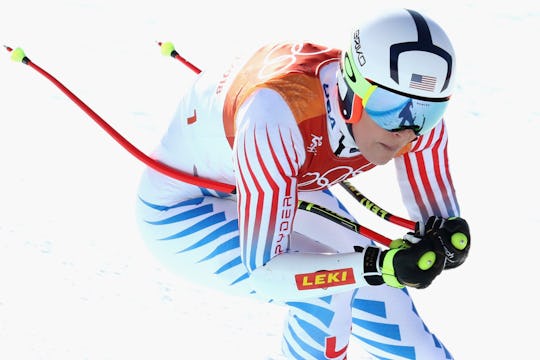 Alexander Hassenstein/Getty Images Sport/Getty Images
What Is Lindsey Vonn's Net Worth?
With the second half of the 2018 PyeongChang Winter Olympic Games is underway, many of us might consider ourselves Olympic trivia experts by now. How many Olympic gold medals has snowboarder Shaun White won in his career? (Answer: Three.) What is the most dangerous Olympic sport? (That's up for debate.) What is Lindsey Vonn's Net Worth? Okay, maybe this isn't one you're necessarily dying to know — but as I've discovered, it's so easy to fall into an online rabbit hole when geeking out to Olympic knowledge. Given her incredible career, sponsorships, and two Olympic medals so far, Vonn's net worth is a testament to her impressive athleticism.
Boasting a total of 79 career wins — including one gold and one bronze Olympic medal — 33-year-old Lindsey Vonn is the most decorated female skier in history, according to Time. She also happens to be one of the most widely-known athletes in winter sports in general. Because of this, it only makes sense that her net worth reflects this elite level of excellence. According to anarticle by Forbes, Vonn's net worth was roughly $3 million in 2013. Back then, the decorated skier was sponsored by Under Armour, Head, Red Bull, Oakley, and Rolex. Since then, though, Vonn's net worth has significantly risen.
In fact, according to Celebritynetworth.com, Lindsey Vonn's net worth is currently estimated at $6 million – nearly double the 2013 Forbes estimate. Not too shabby, right? (Side note: Parents, it's not too late to get your kids into skiing lessons. Go, now!)
So how does Vonn make all of that moola, you ask? Let's break it down. Vonn has earned more than $128,000 in 2018 from the International Ski Federation for her performances, according to Business Insider — and it's only February. To get a more realistic idea of what she makes in a year, Vonn earned over $592,947 in 2012 and $461,800 in 2016. And aside from 2014 — when she hurt her knee in a skiing accident that sidelined her for a while and prevented her from competing in Sochi, according to NBC — Vonn has consistently brought in six figures or more each year from her performances alone.
Vonn's net worth is definitely not all from her winning competitions, that's for sure. Sponsorships play a huge roll in the elite athlete's net worth, as well, Time reported. Vonn's current sponsorships include: Red Bull, Beats by Dre, Rolex, Oakley, Hershey, Proctor & Gamble, GoPro and Under Armour. And you don't have to look too far to see them in action. In competition, the superstar skier typically sports a Red Bull helmet. And while standing on the podium, she wears a Red Bull beanie. Her social media channels are another indicator.
Here's a Beats by Dre sponsorship opportunity on Vonn's Instagram.
And there's that Red Bull beanie.
Bounty for the win!
Her Under Armour clothing line undoubtedly brings in some significant cash, as well.
Oh, and did I mention her kick-*ss real estate? Check out her digs, in this tour she gave People of her gorgeous Vail, Colorado home.
Vonn actually has homes in California and in Colorado — which makes sense, considering she's a world-class skier and all. To give you an idea of how much these add to her net worth, her West Hollywood home was recently listed at $3.8 million, according to Time. And the Hollywood home she recently purchased in September 2017 set her back a cool $2.6 million.
Although Lindsey Vonn did not medal today in the Women's Super-G event, she still has two more chances to make it to the podium before the 2018 games are finished, USA Today reported. Considering U.S. Olympians get paid each time they earn a medal, Vonn's net worth could very well continue to rise. We're all rooting for you!