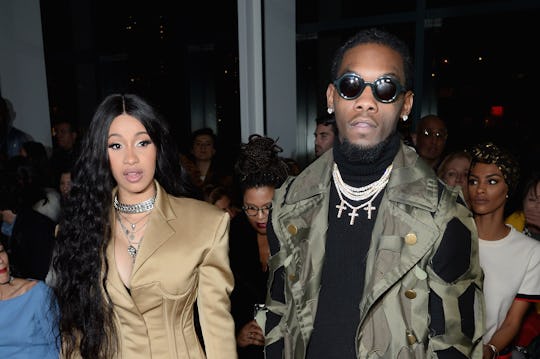 Andrew Toth/Getty Images Entertainment/Getty Images
Cardi B & Offset's Baby Girl Has A *Beautiful* Moniker, But Whose Last Name Does She Have?
After months and months of waiting for their daughter to arrive, Cardi B and husband Offset have officially welcomed their baby girl. As the Bronx-native rapper announced on Instagram on Wednesday morning, their bundle of joy was born on July 10 and the new parents chose a beautifully unique name: Kulture Kiari Cephus. Considering that both her parents are most well known by their stage names, it's fair to wonder what Offset's last name is and if his daughter carries his official surname in her moniker.
If you're a big Migos fan, then you may have noticed that Offset and his daughter share very similar names. Offset's full name is Kiari Kendrell Cephus, so his daughter does indeed bear his last name on her birth certificate, as well as his first (as her middle name). Cardi B's full name is Belcalis Almanzar, though it's not clear if she's legally changed her last name after marrying Offset in a secret ceremony last year.
With all that said, it's clear how the new parents landed on their daughter's middle and last names, but what about her first name, Kulture? It's certainly unique, but how did they decide on it and does it have any special meaning to the couple?
As you might have expected, the name Kulture doesn't have a listing in NameBerry.com or BabyName.com — yet that is. But as Variety pointed out, Cardi B and Offset's daughter's name is also the name of her dad's last two albums with his rap trio, Migos: Culture in 2017 and Culture II in 2018. "As in, for the culture. As in, the name of her daddy's last two albums with Migos. As in, so kultured your fave could never. As in, 'do it for the Kulture, they gon' bite like vultures.' As in, wow, we really don't deserve these two," as Variety writer Dee Lockett perfectly explained.
Why the K though? Cardi B and Offset have yet to explain that, but considering they both have very unique names themselves, they probably wanted to extend that to their daughter and added the K for a little extra spice. Whatever the reason, it's a gorgeous name, and tons of Cardi B and Offset fans are totally on board for the Kulture.
Cardi B revealed that she and Offset had already landed on their baby's name during an appearance on The Ellen DeGeneres Show back in April, saying that Offset picked it out (it all makes sense now, right?). "I really like the name," Cardi B told Ellen DeGeneres at the time, according to People. "Imma let him say the name since he named the baby. It's, like, almost tricky but when it comes out, it's like, 'Ahh!'" Ahh, indeed! So beautiful and so exciting.
Similarly, 26-year-old Offset also teased that they had indeed picked out their baby girl's moniker in an interview with Hollywood Life last month, but he wouldn't spill the beans on what it was, its significance, or its inspiration. "Just wait on it…" Offset told Hollywood Life in June.
Kulture is Offset's fourth child, but his first with Cardi B, whom he officially married on Sept. 20, 2017, as TMZ reported. Offset has three other children from previous relationships. According to The Sun, Offset has an 8-year-old son named Jordan with Justine Watson; a 3-year-old son named Kody with Oriel Jamie; and a daughter named Kalea Marie with rapper Shya L'Amour.
Looking at baby Kutlure's name in comparison to her siblings makes it clear that her dad has a knack for unique monikers. Fans can only hope he and Cardi B will keep fans up to date on all things Kulture as they adjust to their new life as parents to their little girl.