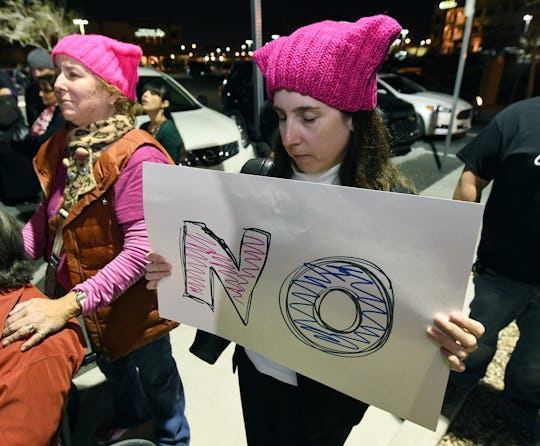 Ethan Miller/Getty Images News/Getty Images
What Is Power To The Polls? The Women's March Anniversary Event Aims To Mobilize Progressive Voters
On Jan. 21, 2017, more than 2.6 million women from around the world participated in the history-making Women's March. The largest of these events took place in Washington, D.C., just one day after President Donald Trump was sworn into office. (This was definitely not a coincidence, and it managed to attract a much larger crowd than Trump's, too.) As the first anniversary of this empowering march approaches, its organizers are gearing up for yet another massive event — only this time, it will be centered in Las Vegas. But what is Power to the Polls? The Women's March anniversary event aims to mobilize progressive voters.
Last year, a total of 672 other sister marches in all 50 states and 32 countries were held on Jan. 21, according to Newsweek. On that day, women and allies alike came together to send a clear message: We will not stand by idly while the President of the United States attempts to roll back coverage for essential healthcare, take away power over our own bodies, and strip us of our dignity. For 2018, the Women's March will continue to send a similar message. Additionally, the event will serve as a kick-off for a "national voter registration tour" targeting swing states, registering first-time voters, and helping get progressive women elected to office, the publication reported. And it's all going down this coming weekend.
So why is this year's Women's March being held in Nevada, you ask? According to the organization's website: The state "was rocked by the deadliest mass shooting in modern U.S. history, recent sexual assault allegations against elected officials, and has become a battleground state that will shape the Senate in 2018." The website continued:
The kickoff event in Las Vegas will bring together talent, musicians, grassroots activists, and elected officials to a key swing state for a large-scale gathering to celebrate the work of the past year and launch a collective 2018 Women's March agenda.
Well, when they put it that way, Nevada makes perfect sense.
Not near Las Vegas, but still want to participate in the march? Never fear! As Glamour reported, there are hundreds of sister marches and anniversary events being held across the nation this coming weekend. Simply enter your zip code to locate events near you. Or, a full list of events can be found on the Women's March Alliance Facebook page, the publication reported. Most major American cities — and even a few internationally — are scheduled for Jan. 20 or 21.
As Newsweek reported, a record number of women have signed up to run for political office since Trump's election. Encouragingly, progressive women have managed to win seats that were once thought to be unattainable. In Virginia, for example, a total of 11 Republican male incumbents in the House of Delegates have been unseated by women, the publication reported. Danica Roem, the first-ever openly transgender woman to be elected to a state legislature, was among these women.
"Women's March has created a powerful movement that has ignited thousands of activists and new leaders," Tamika D. Mallory, co-president of Women's March, said in a statement, according to Newsweek. "In 2018, we must turn our work into action ahead of the midterms. Mallory continued:
This new initiative will address voter registration and voter suppression head on. We marched for justice in DC, we created our plan in Detroit and now we're bringing the power of the polls to Nevada.
I was unable to attend the Women's March last year, and I still haven't stopped kicking myself for missing it. So this time around, I made it a priority. Next Saturday, I'm packing up two of my kiddos and making the trek to my state's capitol — complete with pussy hats, "Nevertheless she persisted" shirts, and some epic signage — and we are marching come rain, shine, or snow. I want my daughters and son to know that women deserve every opportunity and right that men are afforded. That we demand equal pay. That we must be able to decide what happens to our bodies. That sexual harassment in the workplace (or anywhere, for that matter) is completely unacceptable. And that we will accept nothing less.