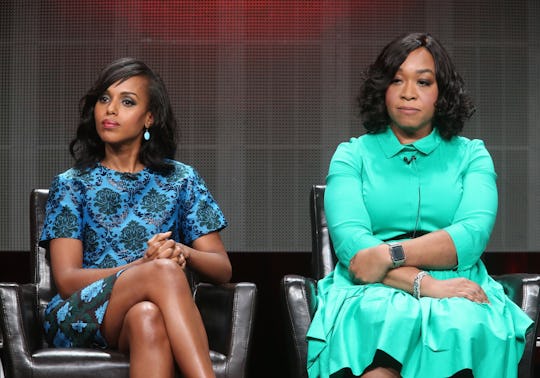 Frederick M. Brown/Getty Images Entertainment/Getty Images
Hundreds Of Women In Hollywood Have Launched A Plan To Combat Sexual Harassment
If 2017 was the year of #MeToo, then 2018 will be all about #TimesUp. By now, you've likely seen some of your favorite celebs on social media using the hashtag and wondered what Time's Up actually is. On Monday, a group of over 300 prominent actresses and female agents, writers, directors, producers, and entertainment executives released their mission statement in two full page ads, one in English and one in Spanish in The New York Times and La Opinion, a Spanish-language newspaper, pledging to help all women fight sexual harassment in the workplace. And they already have some big wins.
It's pretty impressive, actually. The initiative, which is leaderless and made up of working groups, includes a legal defense fund for women that already has $13 million in its coffers to help low-income workers defend themselves, legislation to regulate companies with reputations for sexual harassment and to discourage making victims sign non-disclosure agreements, and a push to close the gender gap at studios and agencies in Hollywood, according to Deadline.
The initiative is also a show of solidarity to the 700 farmworkers who wrote an open letter in November about sexual assault and harassment in their industry calling out the fact that sexism exists everywhere, not just on sound stages in Hollywood.
Shonda Rhimes, one of the members, told The New York Times:
It's very hard for us to speak righteously about the rest of anything if we haven't cleaned our own house. If this group of women can't fight for a model for other women who don't have as much power and privilege, then who can?
The initiative is a response to the criticism that the #MeToo movement focused on just the privileged women of Hollywood and is a pretty badass, super inclusive way to take matters into their own hands. Some of the women in the group include, according to Refinery 29:
Shonda Rhimes, Ashley Judd, Eva Longoria, America Ferrera, Natalie Portman, Rashida Jones, Emma Stone, Kerry Washington, Reese Witherspoon, Ava DuVernay, Jill Soloway, Donna Langley, chairwoman of Universal Pictures, lawyers Nina L. Shaw and Tina Tchen, who was Michelle Obama's chief of staff, and Maria Eitel, an expert in corporate responsibility who is co-chairwoman of the Nike Foundation, and many others.
A commission was led by Anita Hill to draft a blueprint to ending sexual harassment and Master of None's Lena Waithe is heading up the working group to represent minorities and LGBTQ. Another group led by Shaw is drafting legislation to discourage women from settling with companies. "People settling out in advance of their rights is obviously something that can't continue," she told the Times.
Another group in the initiative, called 50/50 By 2020, is pushing for women in leadership positions at agencies and studios. Already, Rhimes got Chris Silberman, the managing director of ICM Partners, a major talent agency, to pledge to meet the goal. They're really focused on action and are certainly not playing.
The group has been meeting for two months and it's grown exponentially over time. First, talent agents started meeting together to talk about the sexual harassment and assault allegations as more men were accused, to discuss action steps. As more people heard about it, it spread from restaurants and living rooms in Hollywood all the way to New York City and London.
During this year's award season, the real question for actors and actresses is whether they've been involved with the project or have donated to its legal defense fund (there are already 500 donors, according to BuzzFeed, including Witherspoon, Rhimes, Steven Spielberg, and Meryl Streep).
That's kind of the point, too. Women have raised the issue and awareness on social media by coming forward in the past few months, it's time to actually do something about it. Eva Longoria told the Times that the group is encouraging actresses to wear all black on red carpets and speak about gender and racial inequality instead of what designer they're wearing.
"This is a moment of solidarity, not a fashion moment. For years, we've sold these awards shows as women, with our gowns and colors and our beautiful faces and our glamour. This time the industry can't expect us to go up and twirl around. That's not what this moment is about," she told the publication.
Given its focus on protecting all women, its work so far, and its focus on inclusivity, it's going to be exciting to see what the group works on going forward. Already, just the fact that so many women have come together to change the sexist climate is a good sign that 2018 is definitely going to be a good year.
Check out Romper's new video series, Romper's Doula Diaries:
Watch full episodes of Romper's Doula Diaries on Facebook Watch.