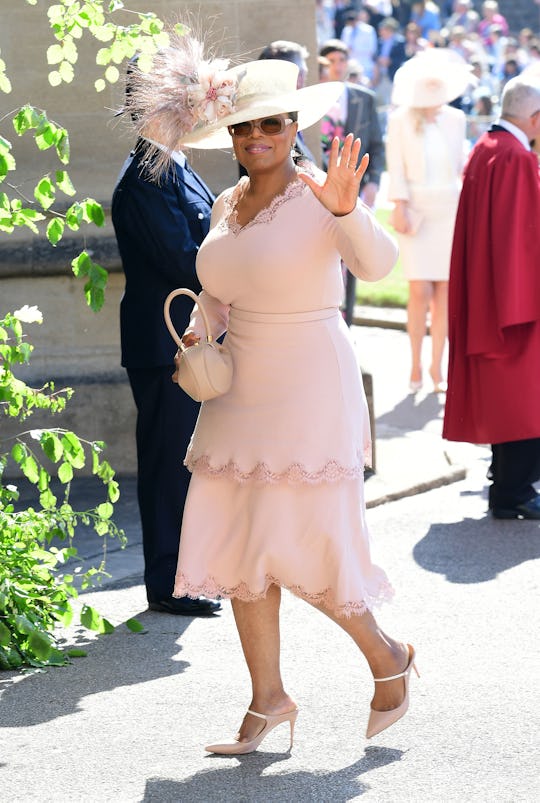 WPA Pool/Getty Images Entertainment/Getty Images
Oprah Said The Most Heartwarming Thing About Prince Harry & Meghan Markle's Royal Wedding
The wedding of Prince Harry and Meghan Markle on May 19 might already seem like a lifetime ago to royal fans at this point, but details about the grand affair are still coming out. Although the world has likely seen all the dazzling photos that will be made publicly available — and we already have the tiniest of details about the dress, the flowers, and the guests — one A-list celeb who was in attendance at the nuptials is offering more insight on what it was like to actually be there on that historic day. And honestly what Oprah said about Prince Harry and Meghan Markle's wedding is so, so heartwarming.
As Express reported, the former talkshow-host-turned-TV-network-producer was among the esteemed guests at the royal wedding. She wore a bluish-pink, layered dress with lace detailing that fell below her knees, along with matching shoes and a white hat, the publication reported. As Winfrey walked into St. George's Chapel at Windsor Castle, she waved at cameras, clearly elated to be there. However, nothing could have prepared her for how the ceremony itself would affect her.
"It left me feeling that anything is possible through the power of love," Winfrey said in the August issue of British Vogue, as People reported. "Reverend Curry was right!"
It seems Winfrey — like many others — was moved by the the powerful words of Bishop Michael Bruce Curry at Prince Harry and Markle's wedding. Prior to the bride and groom saying "I do" at the royal wedding, Curry gave an impassioned message that included a quote from Martin Luther King Jr, according to NPR, saying: "We must discover the power of love, the redemptive power of love. And when we discover that, we will be able to make of this old world a new world. Love is the only way."
Winfrey also opened up about her royal wedding experience for the August issue of O, The Oprah Magazine, E! News reported. "I was unprepared for the depth of emotion I felt stepping onto the grounds of Windsor Castle," she wrote for the upcoming edition. "It literally took my breath away. I exclaimed out loud to no one in particular: 'Whoa! This right here is a whole 'nother level!'" According to E! News, she continued:
And I thought immediately of the history, the legacy, the astounding moment Meghan Markle was stepping into. And what it would take to be prepared for such a moment. The life she was leaving behind and the new world to which she was rising — all part of a destiny she helped design.
On a far less sentimental note, Winfrey also shared with British Vogue the fashion "mistake" she nearly made at the royal wedding, Entertainment Tonight reported. Apparently, just two days before Prince Harry and Markle tied the knot, Winfrey became concerned about the cream dress that Stella McCartney had created for her. "[It] looked white, not cream," she told British Vogue, after taking a closer look at a photo of the commissioned dress. "I googled, 'Can you wear white to a wedding? Answer: 'No, don't risk it.'" As a result of Winfrey's last-minute worries, McCartney worked "round the clock" in order to completely redo the dress in pink, according to Entertainment Tonight. (For the record, Kate Middleton wore white to the royal wedding; so she would have been in good company.) If you ask me, though, the end result in pink was pretty dazzling.
I don't know about you, but I'm loving hearing these first-hand accounts of what it was like to be at the royal wedding. (And I'm kind of dying to read more details about Oprah Winfrey's in particular.) Because let's face it: There's no way I'm ever going to get the opportunity to attend something of that caliber. So when people like Oprah Winfrey spill about their experiences, it's like I get to live vicariously through them. And for that, I'm eternally grateful.