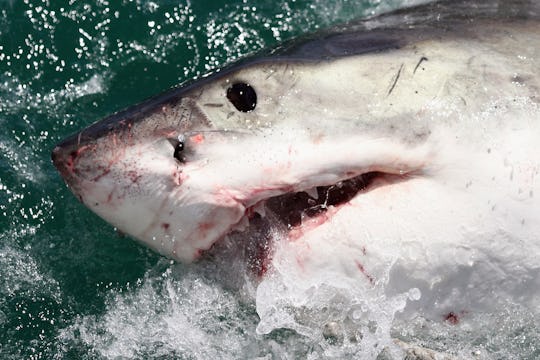 Dan Kitwood/Getty Images News/Getty Images
This Year, Shark Week Is Going To Be Epic
Summer is here, and as families everywhere head out to the beach to enjoy the warm weather and sunshine, something exciting (and sinister) is lurking right around the corner. Shark Week is back, and this time it's commemorating its 30 years on TV. From the dangers of shark attacks to the science behind these magnificent creatures, Shark Week dives into the fascinating world of sharks, and it's downright addictive. So if you're hoping to marathon a week of everything shark, you'll want to know, what time is Shark Week airing on the Discovery Channel? The specials you won't want to miss will be on every evening.
Shark Week officially begins on Sunday, July 22 at 7 p.m ET on the Discovery Channel, and kicks off with Alien Sharks: Greatest Hits, a culmination of the last five years best alien shark moments. According to a press release by the network, the TV event will continue for eight days and will feature 22 brand new shark specials, and is slated to feature "the most hours of shark programming ever on Discovery Channel with over twenty hours of celebrity surprises and jaws-dropping shark stories."
The celebrity lineup for Shark Week is pretty impressive, with stars like Shaquille O'Neal, Ronda Rousey, Aaron Rodgers, Rob Gronkowski, Lindsey Vonn, Mark Cuban, Barbara Corcoran, Kevin O'Leary, Daymond John, Guy Fieri and Bear Grylls all making appearances for Shark Week's 30 year anniversary.
Kicking things off on the first night, Bear Grylls dives into a shark feeding frenzy on Bear Vs. Shark at 8 p.m. ET. Then basketball legend Shaq trains to dive with sharks in the Bahamas on Shaq Does Shark Week. And perhaps most impressively (or frighteningly), you can watch Olympian and UFC champion, Ronda Rousey face a deadly Bull Shark without the safety of a cage on Ronda Rousey Uncaged, which airs right after Shaq's special.
But not all celebrity guests will be performing death-defying stunts. Some celebrities will be bringing light to causes that can help the sharks survive in changing environmental conditions. The entire team of Shark Tank is teaming up to donate funds and raise awareness about the threats sharks face by working alongside shark-centric non-profits on Shark Tank Meets Shark Week, which airs on Wednesday at 9 p.m ET.
Furthermore, along with the all new specials, Discovery has some amazing shark programming scheduled throughout the week. The network will show historical content like the story of when the US Indianapolis was stranded in shark-infested waters during WWII in Ocean of Fear. The network also has planned plenty of programming centered around the 1975 movie Jaws like How Jaws Changed the World and Return of Jaws. You can also watch the feature film the night before the event, as the Discovery Channel will air Jaws in its entirety on Saturday, July 21 at 8 p.m. ET.
It's hard to believe that Shark Week has been on for 30 years, but I can no longer imagine a summer without it. It has become one of my family's summertime favorites, and I love that I can sit with the kids and watch something that is both thrilling and informative, while still being kid-friendly. You can see the entire line-up for Shark Week on Discovery's schedule, or you can check out your local listings for specific scheduling and timing.