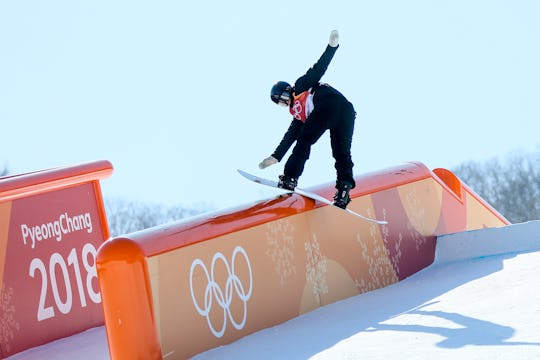 Laurent Salino/Agence Zoom/Getty Images Sport/Getty Images
Here Are The Most Dangerous Events At The Winter Olympics
I don't know about you, but there's more than one winter Olympic event that makes me simultaneously sit there in complete awe and cringe the entire time I'm watching. With so much jumping and air time combined with slippery conditions and unpredictable outdoor weather, it's surprising that more winter athletes aren't injured during competition. Granted, these people are the best of the best. So they kind of know what they're doing. And for the most part, they have the experience to avoid serious accidents. Still, there have already been some close calls at the 2018 Pyeongchang Games. So what's the most dangerous winter Olympic event? With so many risky events, it's still up for debate.
Yahoo! Sports considers the most dangerous winter Olympic event to be "any type of aerial skiing and snowboarding." And it isn't hard to see why. An event called the slopestyle, for example, involves competitors "hurling themselves down a steep hill covered in jumps, grind rails, half-pipes and various other 'snow park' features." Yikes. It's no wonder a staggering 49 percent of ski aerial athletes in Sochi reported injuries, as well as 34 percent of snowboard cross athletes, and 37 percent of slopestyle snowboarders, Yahoo! Sports reported. Clearly, these sports aren't for the faint of heart. (I mean, I can barely watch this footage of freestyle skiing aerials from the 2014 Sochi Olympics.)
Take the slopestyle event, for example. Seventeen-year-old Redmond Gerard of Team USA recently won gold for his slopestyle routine, CNN reported. Although he makes the difficult aerial moves look like cake, the truth is, one wrong move could result in serious injury and even death. Take a look at Gerard's full final run, which catapulted him from last to first place, in this dangerously thrilling event. (Yes, this is kid is really only 17!)
On Sunday, Mark McMorris of Canada took home the bronze medal in men's slopestyle, USA Today reported. Making this feat even more impressive? Just 11 months ago, the athlete broke his jaw, pelvis, left arm, and several ribs, plus he ruptured his spleen, after he hit a tree while training. Just the fact that McMorris was willing to get back on his snowboard after such extensive injuries is unbelievable to me.
Another notoriously dangerous event is the luge. Team USA competitor Emily Sweeney crashed Tuesday during a run of the luge, NBC Olympics reported. The crowd was stunned as Sweeney started bouncing off the walls before finally crashing and sliding to a stop. Although she walked off the course, the Olympic athlete headed to the hospital for X-rays as a precautionary measure. "I'm very sore, and pretty stiff," she told NBC after the accident. "I'm going to get an X-ray on my back after this, but I wanted to have the last word. So thanks for all the support, you guys. It's a bummer, for sure, and I know that I'm better than that. But here we are — it happens."
Although no one has died during an actual Olympic competition, there have been multiple deaths during training. Back in 2010, Georgian luge athlete Nodar Kumaritashvili was killed on the final turn of the Olympic course — just hours before the opening ceremony — when he lost control, flew over the side, and slammed into a pole, reported The Guardian. And according to USA Today, he was going nearly 90 mph when he crashed prior to the 2010 Vancouver Olympics. (Warning: The video below explains how dangerous the sport can be, and it also includes brief footage of Kumaritashvili's deadly run prior to when his luge went over the side of the course.)
And then there's the skeleton, during which competitors plunge head-first at high speeds down an icy track. (Um, no thank you.) Yet, ask skeleton athletes, and they'll tell you it's actually the safest of the three sliding sports, according to Salon. Still, I'll take a hard pass.
So there you have it: Because of the nature of many winter Olympic sports, they seem to be inherently more dangerous than most summer Olympic events. With that said, it's pretty difficult to narrow down which event is the most dangerous. Between the luge, slopestyle snowboarding, freestyle aerial skiing, and other high-speed/aerial events, athletes take on the risk of serious injury each time they compete. Yet somehow, their love for the sport and the thrill of the ride keep them coming back for more.
Check out Romper's new video series, Romper's Doula Diaries:
Watch full episodes of Romper's Doula Diaries on Facebook Watch.