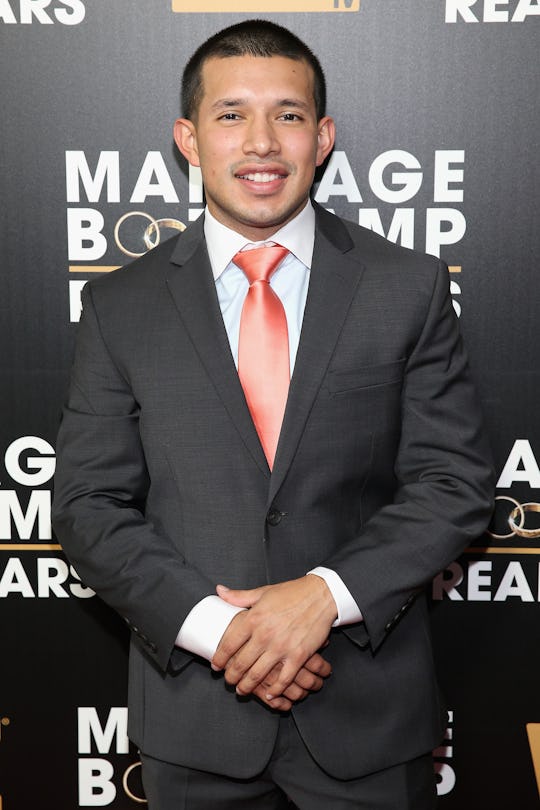 Bennett Raglin/Getty Images Entertainment/Getty Images
'Teen Mom 2' Star Javi Marroquin Revealed His Baby's Sex In An Adorable Way
Teen Mom 2 star Javi Marroquin is expecting his second child with his girlfriend, Lauren Comeau. And less than two months after Marroquin announced the exciting news, he took to Instagram on Monday to announce his baby's sex. So, what's the sex of Javi Marroquin's second baby? Fans can't get enough of the adorable reveal.
Marroquin is no stranger to fatherhood, as he's already the father to 4-year-old Lincoln. Marroquin shares custody of Lincoln with his ex-wife, Kailyn Lowry, and they're working towards co-parenting peacefully following a prolonged period of strife. In the meantime, Marroquin is focusing on building a family with Comeau, who he has dated on-and-off since July 2017. And it's clear Marroquin couldn't be happier to start a new chapter with Comeau by his side.
"Blessings on top of blessings," Marroquin captioned a shot of Comeau's bump in May, according to Us Weekly. Comeau issued a similar statement on her own Facebook page, writing, according to Radar Online: "Sometimes life's biggest blessings come in the smallest packages. Baby Marroquin coming soon."
Although it's not exactly clear when Comeau is due, fans now know whether the couple will welcome a boy or girl into their growing family. As it turns out, Marroquin and Comeau are expecting a ... boy. "Your mom, big bro, and I love you already," Marroquin captioned a shot of his family surrounded by blue smoke, according to Instagram.
As for how the couple broke the news, they opted for a reveal that paid homage to one of Marroquin's beloved interests — soccer. Not only is Marroquin a big soccer fan, but he coached Lincoln and his stepson's respective soccer teams.
Party attendees were split up into team boy or team girl, and mini soccer balls were strewn about the couple's backyard to drive the theme home. In Marroquin's sex reveal pic, you can see Lincoln kicking one of the tiny soccer balls into the air, and it looks like one of the balls was filled with blue smoke. How adorable.
Following the big reveal, fans took to the post's comments section to compliment the couple on their sweet announcement.
"Lol cutest action shot," one fan penned, according to Instagram.
"I love how she incorporated soccer in to the gender reveal," another person said. "We all know your love of soccer."
"Did Lincoln's soccer ball bust blue too?!" a curious commenter asked. "Or was it just a normal one? Congratulations!"
Sadly, there were a few naysayers who took Marroquin to task for having babies with multiple women. *Insert eye roll here* The good news is Marroquin probably didn't take the backlash to heart. All that matters to Marroquin at the moment is his family, a sentiment he touched on in a May 30 Instagram post. Marroquin penned, according to Instagram:
Been kinda quiet lately for many reasons. I was sad I couldn't share the good news because I was afraid of what people would say. The amount of love I've received is so overwhelming and so appreciated. I realized No negative comment will take this moment away from us. A baby is a blessing and I am ecstatic for the future. Lincoln is happy, I'm happy, and Lauren is happy. Gonna go on a little hiatus from social media to take all this in and enjoy it with my family and loved ones. For those sending love, thank you! We appreciate it. And to you @lauren3elizabeth thank you for blessing me with another child. We are gonna be amazing parents together.
It's a relief to hear no negative comment can take away from Marroquin and Comeau's joy. And on that note, here's to the health and happiness of the couple's baby boy.