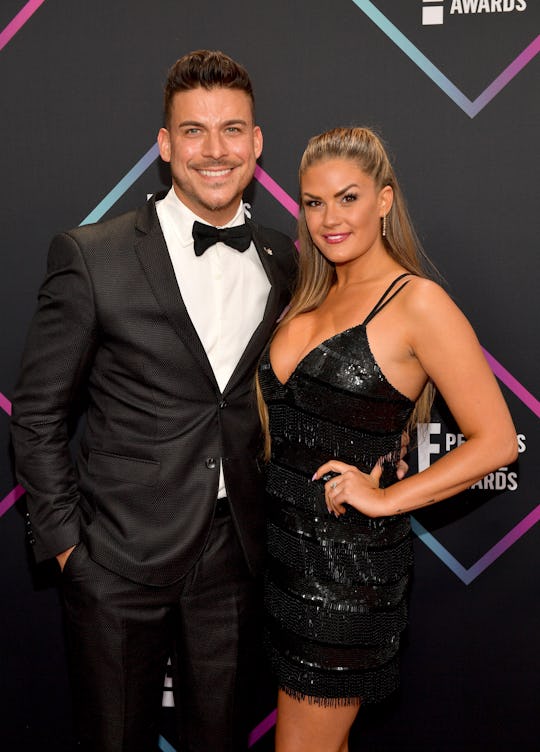 Matt Winkelmeyer/Getty Images Entertainment/Getty Images
Jax & Brittany Have Big Wedding Plans After 'Vanderpump Rules'
It seems like just yesterday that most of the SUR employee roster and Vanderpump Rules stars were fighting for screen time and fighting with each other. OK, that part hasn't changed much, but so many of the core cast members are all grown up now, including Jax. His relationship with Brittany is probably what has matured him most. And now that their engagement is underway, fans want to know: when are Jax and Brittany getting married after Vanderpump Rules? In a perfect world, they would have a televised wedding complete with the entire Vanderpump Rules cast and just a little bit of overdone drama sprinkled in. But, televised or not, they have big plans for their impending nuptials.
In October, Jax posted a video on Instagram of Brittany dancing in front of the Kentucky Castle with the caption, "Well venue set, deposit paid. Now I need a drink....bad." And later on Twitter he shared his excitement further. "Can't believe I am getting married in a castle that is all ours for three nights," he wrote. "You can't see the amazing pool in the back but it's absolutely gorgeous. Gonna be a weekend to remember!"
Now that they've chosen their venue, they can move on to the other important aspects of wedding planning, and it will be here before they know it. According to Radar Online, Jax and Brittany will get married in the summer of 2019.
In 2017, Jax and Brittany gave viewers their first taste of Brittany's hometown in Kentucky with Vanderpump Rules: Jax And Brittany Take Kentucky. Watching Jax leave the comforts of California for farms and grazing fields was kind of amazing, and when the couple returns to the state for their wedding next summer, it's all in the name of love. Especially since Brittany has always dreamed of a Kentucky wedding.
"I've known where I wanted to get married since I was a little kid," she told People in July, before they'd officially locked down their venue. "I've talked about it on the show. Even in other seasons, I wanted to get married at the Kentucky Castle so I don't think that's a surprise. I have a date set and all that stuff, but I think I'm going to focus on the engagement party first."
The couple have had their ups and downs over the years and split up more than once. But now it seems as though they've coupled up for good. There are even rumors about a potential wedding spin-off in the works, though it hasn't been confirmed by the couple or Bravo just yet.
Jax recently revealed to E! News plans for the multiple bachelor and bachelorette parties the couple is currently planning. "There's going to be two bachelor parties," he explained. "There's going to be one for all the guys, we're going to go on a ski trip in Aspen, I think next month. That one's going to be off-camera. And then the on-camera one is going to be in Miami."
Brittany quickly interjected with, "We haven't been picked up yet," likely referring to Vanderpump Rules Season 8 or possibly a wedding spin-off special, but let's be real. There's no way fans aren't going to be given another season to watch all of the wedding excitement go down and to finally see Jax get married.
Vanderpump Rules usually films during the spring and summer months, so a summer wedding makes sense if they plan to televise the wedding and everything leading up to it. If they keep it on the down low instead, however, I'm sure the couple will still share all of their wedding events and planning that take place when Season 8 inevitably airs next year.
This first-time mom wants to have a home birth, but is she ready? Watch how a doula supports a military mom who's determined to have a home birth in Episode One of Romper's Doula Diaries, Season Two, below. Visit Bustle Digital Group's YouTube page for the next three episodes, launching Mondays in December.