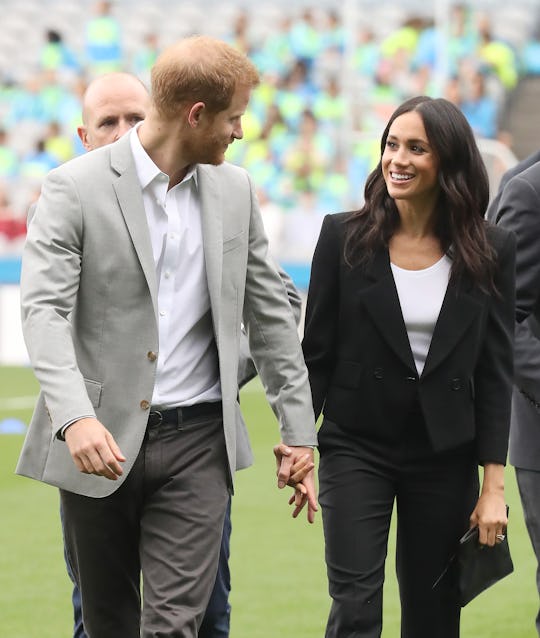 Chris Jackson/Getty Images Entertainment/Getty Images
Meghan Markle & Prince Harry Could Be Making Their Way To America Sooner Than You Think
Now that former Suits actress Meghan Markle has become an official member of the British monarchy, she looks like she's having a pretty great time. There's the wardrobe, the great seats at every event, the teeny-tiny pretend British accent she's been trotting out every now and again. But sometimes a girl misses being home, even if her current home is a freaking palace. And it looks like this girl is coming home, because Prince Harry and Markle are reportedly coming to America. Which means you might run into them at Starbucks on your way to work or something.
A source who claims to be close to the Duchess of Sussex and her new husband the Duke of Sussex recently told Us Weekly that the couple are in the beginning stages of planning a spring 2019 tour of the United States. It looks like Markle wants to introduce her husband to all of the things she loves about her country, according to Us Weekly. "They are so excited to head to the U.S. Meghan is looking forward to introducing Harry to everything she loves about the U.S.," the source reportedly told the publication.
This visit would mark the first time the royal couple will visit the United States since they got married in May. Romper's request for comment from Kensington Palace regarding their reported travel plans was not immediately returned.
So where will they be going, you ask? Apparently there will be plenty of possible sightings for Markle and Prince Harry around the country next spring. Nothing is set in stone yet, according to Marie Claire, but they two are reportedly working on finalizing some details. They are reportedly planning on visiting "California, Washington D.C., New York, Chicago" and even Canada at some point, according to Marie Claire, which would make sense since Markle's best friend Jessica Mulroney is a Canadian. And yes, I'm a Canadian and maybe I'm angling for a visit up here as well, so sue me.
The Duke and Duchess of Sussex are supposedly planning on making this an official tour meant to "solidify ties between the U.K and the U.S.," the source told Us Weekly. With that in mind, a trip to San Francisco to meet female tech entrepreneurs has reportedly been planned, according to The Cut. Because Meghan Markle is obviously a bad*ss feminist who is always going to make supporting women a priority. No word yet on whether or not the couple will meet with President Trump on their tour. But I feel like Markle would say a thoughtful-but-firm no to that request.
If you were worried about waiting almost a whole year to see Duchess Markle on American soil, fear not. It looks like she could be planning a solo voyage home to reconnect with her pre-royalty pals this summer. While Kensington Palace has yet to confirm the news either, another source told Us Weekly that the Duchess of Sussex is planning to visit both New York and Los Angeles some time later this summer. No date has been set, but her unofficial solo trip is reportedly set to happen before her official tour of New Zealand and Australia alongside Prince Harry this October.
I sort of wish her new sister-in-law Kate Middleton was joining her for this unofficial trip. And then they could do hot yoga together and go shopping and get facials and the world would be a better place for it.
Obviously this is wishful thinking. As it is, I think we should all just be happy that Meghan Markle could be planning not just one but two trips to the United States over the course of the next year.
This is the perk of having an American member of the British royal family, guys. One day we might even see the Queen of England herself sipping a latte from Starbucks. You just never know.