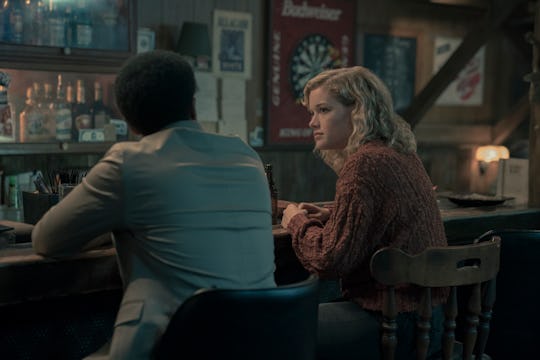 Patrick Harbron/Hulu
'Castle Rock' Will Bring Together A Number Of Stephen King's Works
If you're a Stephen King fan you'll probably love Hulu's new series, Castle Rock. The spooky series is set in Castle Rock, Maine, the fictional town where many of King's bestselling novels are set. The series begins with Henry Deaver (André Holland), a death-row attorney, confronting his dark past when he gets an anonymous call luring him back to his hometown of Castle Rock. The show has already received great reviews, so it's no surprise that people are asking when does Castle Rock premiere?
The new series will begin streaming on Hulu on Wednesday, July 25, and in case fans are worried about another King adaptation not meeting their expectations, it's worth noting that the show has already received King's blessing. Co-creator and executive producer Sam Shaw explained at the ATX Television Festival, that receiving the go-ahead from King was crucial to him and his collaborator, Dustin Thomason.
In case you're not a King aficionado, the town of Castle Rock first appeared in The Dead Zone, which was published in 1979. Most recently, King fans have taken a trip back to Castle Rock in the 2014 novel, Revival. Castle Rock has also been the setting of some of King's most notable works like Cujo, "The Body" (a novella in Different Seasons), and Needful Things. In addition, there's been a number of King's works that also reference the scary town. For instance, although It is set in Derry, Maine, Castle Rock is mentioned in the novel.
While the new series will pull from a number of King's works, it will also be telling it's own story. Thomason told Entertainment Weekly that idea from the show rose from the question of what kind of people would choose to stay in Castle Rock, a town that is regularly terrorized. "Who stays in a place like that?" Thomason asked. Well, there turns out to be a good number of people, but Henry Deaver wasn't one of them.
After he was involved in a mysterious accident that left his father, the local pastor, dead, a young Henry decided Castle Rock was no longer his home. However, a mysterious phone call brings him back and it is then that he meets "the Kid," played by Bill Skarsgård. You may or may not recognize Skarsgård from his role in the latest It film as Pennywise, the creature that terrorized the town of Derry. Many fans believe there's a reason Skarsgård was cast in both the film and this new King-based show. But if there is a connection, the cast and crew aren't spilling.
All that's known about Skarsgård's character in Castle Rock so far is that he's an emaciated prisoner who was found in a cage deep underneath Shawshank (yes that same Shawshank from Shawshank Redemption, another King adaptation). The Kid, as he's being called since he doesn't remember his name, asks for Henry. Though he doesn't have much to say he seems to know a lot about this mysterious town. Skarsgård told EW that his identity will be at the heart of the mystery around Castle Rock: "Now that he's out what's his agenda? That's something the audience will have to answer for themselves, to figure it out."
The new series will also follow Ruth Deaver (Sissy Spacek), Henry's adoptive mother and lifelong resident of Castle Rock, who struggles with dementia; Molly Strand (Melanie Lynskey), a realtor in a town no one in their right mind would want to live in; Alan Pangborn (Scott Glenn), who was the hero of Needful Things but is now slightly less heroic and in love with Ruth; Dale Lacy (Terry O'Quinn), the warden of Shawshank; and Jackie Torrance (Jane Levy), the self-appointed "historian" of Castle Rock.
You can meet all these characters and begin to learn what is going on in this town when Castle Rock premieres on Wednesday, July 25 on Hulu.