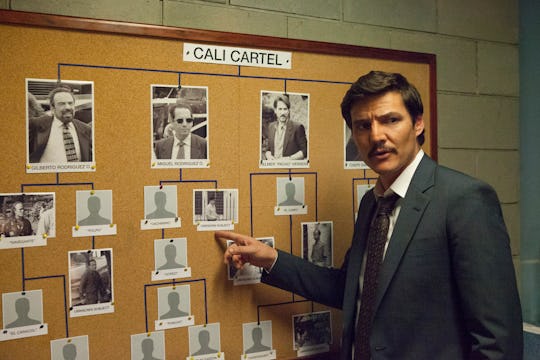 Juan Pablo Gutierrez/Netflix
'Narcos: Mexico's Premiere Date Can't Come Soon Enough
The first three seasons of Netflix's crime drama Narcos focused on the drug cartels of Colombia, but all that is about to change when Narcos: Mexico premieres on the streaming platform. Although there hasn't been an official premiere date released just yet, Netflix did release a teaser trailer in 2017 that showed a mariachi band playing music to the tune of the show's theme song while what looks like cocaine blew out of their instruments in thick plumes.
Deadline reported that instead of focusing on drug crimes in Colombia, the focus will now be on Mexican drug cartels in the 1980's and, more specifically an undercover DEA agent to be played by Michael Pena. I don't know if this will be one those instances where the undercover drug runner falls in love with the lifestyle, but I fully anticipate a ton of heart-pounding scenes where the audience will wonder if he gets caught by his crime lord bosses.
According to the official synopsis for Season 4, "Narcos: Mexico will explore the origins of the modern drug war by going back to its roots, beginning at a time when the Mexican trafficking world was a loose and disorganized confederation of independent growers and dealers." I admit that I got extremely attached to Pablo Escobar's story while it played out during the first couple of seasons as well as Pedro Pascal as DEA agent Javier Pena. However this revamped Season 4 already seems like it will bring more of the same crime storytelling that the show has become known for.
Even though the premiere date for Narcos: Mexico hasn't yet been announced, there's no reason to suspect that it won't follow suit with the previous seasons. Season 2 of Narcos premiered on September 2, 2016 and its teaser trailer was released on June 13 of the same year. Before that, Season 3's teaser trailer was released on July 14, 2017, following by the season premiere on September 1. Season 4's teaser trailer officially dropped on December 19, 2017, but Netflix released season photos on July 19, so I think it's fair to say Narcos: Mexico will premiere at the beginning of September.
Pena is going to play Kiki Camarena, who's moved his family from their home in California in order to take on his role as an undercover agent in Mexico. Speaking of which, the Guadalajara cartel specifically is going to be the main focus this time around, with Diego Luna serving as the crime boss, Miguel Angel Felix Gallardo, that Kiki Camarena will contend with over the course of the season. There is no word yet on if this particular story will take place over the course of more than one season, but there's got to be enough material about the cartel to make that happen. In real life, the cartel's reign spanned from 1980-1989. The story of Escobar on Narcos did pull from some real life incidents, crimes, and stories, so if it remains true to the Mexican cartel's real life story, there could be more than one season dedicated to it.
More than likely, Narcos: Mexico will premiere on Netflix in September since all three seasons have premiered either at the end of August or the beginning of September. But until that official date is announced, I guess we'll all just have to rewatch the first three seasons.