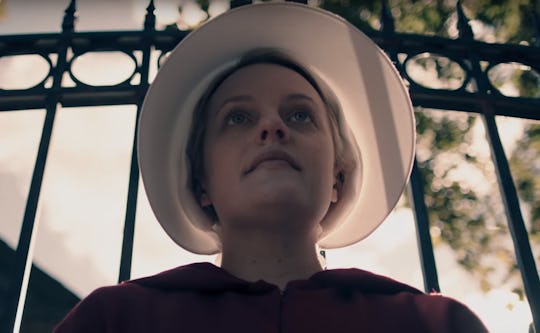 Hulu / Youtube
Here's When Season 3 Of 'The Handmaid's Tale' Will Premiere
The second season of The Handmaid's Tale has wound down, which is already sending me into a state of anxiety. It's just one of those shows that draws you in so deep, you never really want it to end. On top of it being highly addictive TV, the show ended on a major cliffhanger, so fans are already wondering in anticipation, when does The Handmaid's Tale Season 3 premiere?
Warning: this post contains spoilers for the finale episode of The Handmaid's Tale Season 2.
Unfortunately, as of now, there is no official word on a specific release date, but since renewal for the third season has been confirmed by Hulu, you can expect it to premiere sometime next spring. If the streamer stays true to its past release schedule fo the series (both Season 1 and 2 aired in the month of April), Season 3 should premiere in April of 2019. I know it's a long time to wait, but when it comes to groundbreaking TV like The Handmaid's Tale, the wait is well worth it.
Luckily, if all goes according to plan, you may get seven more seasons of show. In an interview with The Hollywood Reporter, showrunner Bruce Miller said that he had ten seasons of the series planned out, which would follow June's story through the rise and fall of Gilead. Miller told the outlet:
I would watch an episode about the Nuremberg trials after Gilead falls. There are lots of worlds you think of: 'I would love that season — seasons eight, nine or ten, where everything has changed so much.' But my arc is still very much the arc of the novel, which is the arc of this one woman's experience in Gilead at this time, and her recollections that paint this picture of what it was like and what the experience of this world was like, which really is still the book.
While most of Season 1 covered the injustices perpetrated by the untouchably strong government of Gilead, the second season is starting to cover the seeds that will likely lead to a revolution. First there was the bombing of the Red Center by Ofglen, which took out a number of commanders and leaders in powerful positions. Then, Commander Waterford and Serena Joy were pretty much kicked out of Canada when Gilead's injustices were revealed through the letters June had given to Nick. Nick gave those letters to Luke, who then uploaded them to the internet for the world to see, and any of the fraudulent credibility Gilead earned went right out the window.
I think that waiting for a new season will be extra torturous this time around, because June has had her baby, and has sent her to (hopefully) safety in Canada along with Emily. And there are still so many questions. Will June be able to save Hannah? Will Emily be reunited with her wife and son? Will Emily be able to find Luke and Moira?
All I can say is that I wish all ten seasons would just drop right now, so I could binge them all at once for some closure. But of course, that's not the way the world of TV works, and just like the rest of the fans out there, I'll have to wait another 10 months before I can dive back into the world of Gilead. There is some comfort knowing that Elisabeth Moss will be back for Season 3, and that production is scheduled to start soon. In the meantime, if you're as impatient as I am, you can re-watch the first two seasons on Hulu, or dive into the brilliant Margaret Atwood novel that started it all, The Handmaid's Tale.