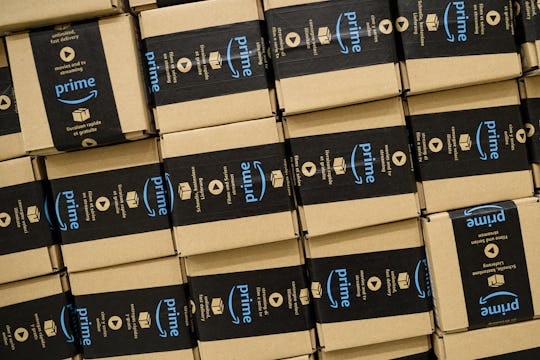 Leon Neal/Getty Images News/Getty Images
Mark Your Calendars Because Amazon Prime Day Has A Date
Amazon Prime Day is coming, the day when Amazon shoppers will be able to access more than one million deals on the retail giant's website. It's a pretty big deal, and a lot of Amazon Prime users look forward to the occasion every year. But when is Amazon Prime Day this year? It's actually coming up very soon, and will be here before you know it.
This year, Amazon Prime Day takes place on Monday, July 16 at 3 p.m. Eastern Time, and runs through July 17, according to Forbes. Last year's event was actually extended to be 30 hours long, and this year, it will be even longer.
If you're not aware of what Amazon Prime Day is, you should definitely educate yourself now, because it's likely going to be a big topic of discussion for the first few weeks of July. Amazon Prime Day has turned into an annual tradition of deals and discounts on a ton of products on Amazon, according to The Verge. Prices will be slashed on electronics, Amazon-branded items, and so much more.
Amazon Prime Day happens during the summer season, which is generally a slow time for sales, according to Newsweek. Its scheduling is kind of a genius move, because it means Amazon sales are ramped up long before the overcrowded holiday season.
For Amazon Prime Day, subscribers of Amazon's Prime service are given access to special deals, according to Newsweek. In general, the Amazon Prime service gives shoppers faster deliveries and often cheaper products or other deals in exchange for an annual subscription fee. Amazon Prime Day just takes all of that to the next level.
In a press release, Amazon announced that this year's Prime Day will feature 50 percent more Spotlight Deals, and will expand to a day and a half long event at 36 hours total.
Jeff Wilke, Amazon CEO Worldwide Consumer, also said members will "experience surprise entertainment events unboxed from giant Smile boxes in major cities," according to the press release. Boxes in New York, Los Angeles, London, Tokyo, and Milan will reportedly open to reveal a pop-up, live-streamed event on the Amazon website, USA Today reported. Concerts, video game, or fashion events are all possibilities.
Amazon is also promising "select deals" at Whole Foods stores for Prime Day 2018, according to CNN Money. This is the first time Prime Day deals will be coming to Whole Foods Market, according to Refinery29. Hundreds of sale items will reportedly be marked down another 10 percent at the grocery chain for the event.
If you're too excited to wait for Prime Day, each day leading up to it will offer exclusive deals on Amazon as well, according to Market Watch. For instance, starting Tuesday, you can get $100 off an Echo Show, 20 percent off AmazonBasics items, and three months of unlimited Kindle reading using Kindle Unlimited for under a dollar.
One thing you should definitely keep in mind while shopping for Prime Day 2018 is Amazon Smile. It is a website also operated by Amazon that has all the same products, prices, and shopping features as Amazon. However, when you shop on AmazonSmile instead, the AmazonSmile Foundation donates 0.5 percent of the purchase price of eligible products to the charity of your choice, according to Amazon's own customer service information.
If you're going to participate in Amazon Prime Day on July 16 and July 17 anyway, shopping using AmazonSmile is a great plan. That way, even as you're getting excellent deals on products and basking in your own consumer savvy glory, you'll also be helping out some really worthy causes.
This year's Amazon Prime Day sounds like it's going to be bigger and better than ever before. If you haven't checked it out in the past, this might be the year to see what all the fuss is about.