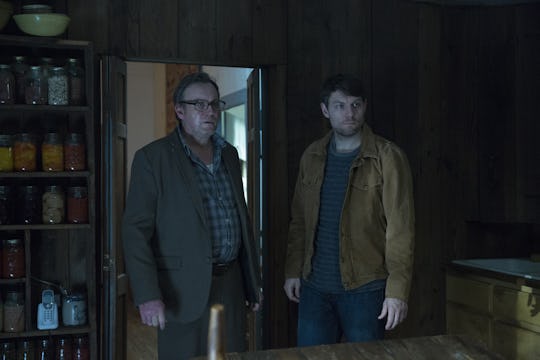 Kent Smith/CINEMAX
Season 2 Of 'Outcast' Is Going To Be Scarier Than The First
When it comes to the horror genre, nothing scares me more than demonic possession, which is why I was excited to find Outcast, a horror-suspense series created by The Walking Dead's Robert Kirkman. In a TV landscape where loud zombies and monsters reign supreme, this show is more quietly sinister. The first season debuted on Cinemax in way back in 2016, so fans of the series have been anxiously wondering, when is Outcast Season 2? Because it's been far too long of a wait.
Luckily, fans don't have to wait much longer. Season 2 of Outcast will premiere on on Friday, July 20 at 10 p.m. ET on Cinemax. Unlike most TV shows, Outcast's second season was renewed months before the first season had even debuted. So, while fans were assured of the show's return, it was all a question of when. Season 2 was released in the UK last year, and now after two whole years of waiting, American fans will get to dive back into Kirkman's world of demons and exorcists.
Just like Season 1, the second season features ten episodes, and will continue following the story of Kyle Barnes (Patrick Fugit) and Reverend John Anderson (Philip Glenister) as they try to battle the demonic forces plaguing their world.
The second season will continue to explore the mystery of the town of Rome, its "supernatural manifestations," and why they're drawn to Kyle, according to a press release. "The show explores how people cope with extreme circumstances while protecting the ones they love."
Many of the cast regulars are returning for the second season, including Wrenn Schmidt as Kyle's adopted sister Megan, and David Denman as her husband Mark. Julia Crockett is also returning as Kyle's mother Sarah, with Kate Lyn Sheil as his ex-wife Allison, and Brent Spiner as the creepy preacher, Sidney. Reg E. Cathey, who unfortunately passed away earlier this year after battling lung cancer, will be seen in his last TV performance as Rome's intuitive Chief of Police, Byron Giles.
If you haven't seen Outcast Season 1 yet, you can stream the first season on Cinemax or MaxGo, or purchase the season (or single episodes) on Amazon Prime Video. But while this show is based on Kirkman's 2014 comic book, don't expect it to give you the same feeling as his popular series The Walking Dead. In an interview with Collider, Kirkman revealed that while TWD was more along the lines of an adventure show, his hopes were to make Outcast just plain scary. "As much as I love The Walking Dead, I feel like it's more of a survival show," he told the outlet. "Part of the intent was to do a show that was actually scarier — there are some great intense moments in Season 1, and I think we've got more of the same coming in Season 2, and possibly a little bit more."
Of course, fans are already wondering when and if there will be a Season 3. But as of right now, there is no definitive answer. Both Kirkman and Outcast showrunner Chris Black mentioned their creative intentions for a third season in their Collider interview, but it will all eventually fall to the bigwigs at the network and what kind of deals they make. When speaking to Deadline, HBO Miniseries and Cinemax Programming president, Kary Antholis revealed that the future of Outcast past Season 2 is still up in the air. "I think the new season is very strong, and I hope it's got a bit more fun and entertainment in it, and is a step forward," she said. "In success, we left open the possibility that we could have a conversation about figuring out a way to bring it back — part of the consideration in doing that will be, what are the constraints, are there other co-production opportunities that maybe have a more efficient impact."
So, while there is still no official word on a third season, at least you still have Season 2 to enjoy. This season is going to be scarier than the first, so maybe you want to leave a light on, just in case.