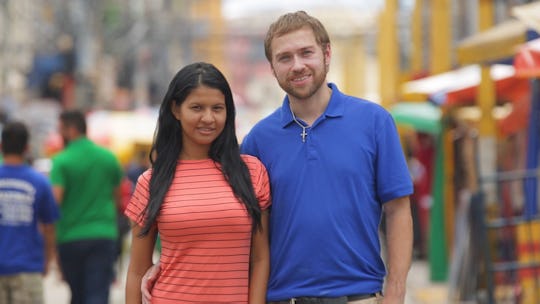 TLC
Fans Will Have To Wait For Season 3 Of '90 Day Fiance: Before the 90 Days'
90 Day Fiancé: Before the 90 Days fans are probably bummed the season is over. While new episodes of the OG, 90 Day Fiancé, are just around the corner, viewers may be wondering when is Season 3 of 90 Day Fiancé: Before the 90 Days? The answer may disappoint — for now, anyway.
Unfortunately, TLC has not announced whether Before the 90 Days will have a Season 3. There are several reasons viewers shouldn't be freaking out, however. One is the network renewed Before the 90 Days for Season 2 in January, along with all the other series in the 90 Day Fiancé franchise (the OG, Happily Ever After, and What Now?). So viewers can expect an answer from TLC in early 2019, and if there is a Season 3 it will likely air next summer.
Another reason that I believe Before the 90 Days will have at least one more season is because it's a hit for TLC. In a press release for 90 Day Fiancé Season 6, TLC mentioned that this season of Before the 90 Days is actually on track to be the highest-rated season for the franchise yet. They are also crediting the show for making TLC the top network for women on Sunday nights. How could TLC take something so successful away!?
It's not set in stone, but I don't think TLC would take Before the 90 Days away from viewers. A third reason fans shouldn't worry — as if those other two weren't enough — is that Season 6 of 90 Day Fiancé is starting. The premiere airs October 21, and viewers will see into the lives of six brand-new couples. Judging from the trailer for 90 Day Fiancé (and the comments, anyway), this may be the most dramatic season yet. Family problems, age differences, and babies are just a few storylines TLC teased for this season and I am definitely not going to miss it.
Furthermore, while none of the Before the 90 Days couples will be on this season's OG, fans will be able to see how their stories continued after the cameras turned off on Sunday's tell-all special. For two hours, the Before the 90 Days Season 2 couples will reveal secrets they've held throughout the season and whether they're still together. Even after the tell-all ends, fans can follow most of the current cast on social media to see their post-TV lives.
If there is a Season 3, there's also a chance that some couples from this round will continue their reality TV journey. Darcey and Jesse and Paul and Karine, for example, appeared on both Before the 90 Days Seasons 1 and 2. Seeing as Darcey and Jesse broke up at the end of the second season, they're probably not going to be featured for another season — but who knows? They seemed done after the Season 1 tell-all and still tried to make it work the next year, so perhaps third time will be the charm. I wouldn't be surprised if Paul and Karine are on Season 3, though. They are married now and trying to have a baby. Season 1 followed them as they met and fell in love through a translator app and Season 2 followed them get married with a translator. Maybe Season 3 will follow them through pregnancy — hopefully without a translator, though.
The other Before the 90 Days Season 2 couples were featured for the first time, but I'm sure if they wanted to keep the cameras on, TLC would oblige them. I would watch any of them for another season. For now, fans can watch the all-new 90 Day Fiancé season, and perhaps hear about Before the 90 Days renewal at the beginning of next year — or perhaps even earlier.