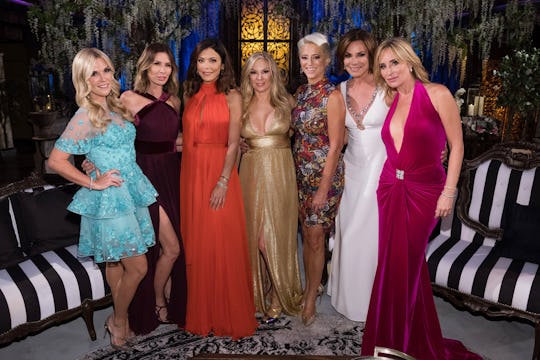 Charles Sykes/Bravo
There Will Be Even More Drama Before The 'RHONY' Season 10 Finale
The tenth season of The Real Housewives of New York has been an eventful one: long-term friendships have splintered, fights have broken out all over the Northeast, and now they're taking the show on the road for the traditional end-of-season trip. It's hard to believe Season 10 could be ending soon, especially since there are even more shocks and surprises to come. So when is the RHONY finale?
It doesn't seem as though an exact date has been announced, but there are a few more episodes before the reunion specials kick off. RHONY airs every Wednesday on Bravo, and it looks like it'll be continuing through to the end of the summer. Previous seasons have run for 19 or 20 episodes before the reunions began, which means the Season 10 finale probably won't be until early August. And there's still a lot to look forward to before that.
First there's the group trip to Cartagena, Colombia, which promises to be one of the most memorable Real Housewives outings in recent memory. Friendships have shifted throughout Season 10 and long-brewing fights will be coming to a head once the women are on vacation. Then there's the much-publicized boat voyage that takes a turn for the worst, putting the women in a potentially dangerous situation. After that, they return to New York to catch Countess Luann's cabaret show. Fans on Twitter reported that the finale was being shot during Luann's performance, which should be the perfect way to finish the season.
According to TV Guide, things start going wrong almost as soon as the women touch down in Cartagena. In Episode 15, "Wigging Out," Bethenny battles an allergic reaction on top of feeling awkward about her increasingly distant relationship with Carole. That leads to a fight between Bethenny and Carole and Dorinda that has been a long time coming; a myriad of minor spats have only been appetizers for the big blowout. Meanwhile, Ramona navigates cobblestones while injured and Luann lends the episode its title by donning another wig that will be giffed into infinity. This trip already sounds iconic.
And it can't be contained by a single episode, either. A RHONY vacation always needs two or three at the minimum. The excursion continues in Episode 16, "Guess Who's Arguing At Dinner?" TV Guide provided a summary of the episode, which reveals that the good times do not last long:
As the ladies head out for a day of shopping in Cartegena, Bethenny continues to unravel and the women's patience with her begins to run out. Carole approaches Sonja for insight on Bethenny. Later over dinner, Tinsley, Ramona, and Sonja try to not eavesdrop on a heated conversation between the two distant friends. A comment Luann makes to Dorinda sends Dorinda off the deep end and puts their friendship on the rocks.
It sounds like they'll be enough drama generated by the vacation to keep the show going for another three episodes, if Season 10 does indeed end up with 20 in total. In years past, it would have been hard to imagine Bethenny taking sides with Sonja or Ramona over Carole, but things have definitely changed. But no matter what happens in Cartegena, it's a guarantee that the cast will be coming back together for Luann's cabaret extravaganza. The season may end on a high point even if it hits some lows before that.
While it may not be perfectly clear whether there are two more episodes left or six, one thing is certain: RHONY Season 10 isn't over yet. With several more episodes to enjoy before the reunion, your Wednesday nights will be spoken for almost until September.