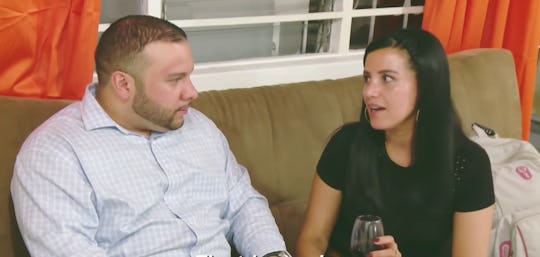 TLC
Here's What To Expect To See On The '90 Day Fiance: Before The 90 Days' Reunion
This season of 90 Day Fiancé: Before the 90 Days isn't over yet: there's still the reunion to look forward to. When was the 90 Day Fiancé: Before the 90 Days reunion filmed? Fans will be able to see what the couples have been up to.
Unfortunately, there's no information online about when exactly the tell-all special was filmed. From the looks of the preview, though, I'd say it was done several months after the season wrapped, but it's certainly not done live. Seeing as the foreigners are interviewed via video call, it also seems that it hasn't been enough time for them to immigrate to the United States.
Despite not knowing when it was filmed now, I'm sure there will be hints during the actual special. What I'm looking forward to the most, perhaps, is having the Americans all in one room together. While the 90 Day Fiancé seasons always have a big cast, they don't really interact with each other. In the promo, it seems like Rachel and Angela get in a tiff. Tensions have been high all season within the individual couples, so having all the Americans together in one room will be an interesting aspect of the reunion. While they all have gone through similar journeys, they're also all vastly different people.
Two couples have been through a Before the 90 Days tell-all before: Darcey and Jesse and Paul and Karine. With the other couples, the American was on the couch and the foreign partner video-called in. Jesse surprised Darcey by being in the studio, however, which led to some awkwardness. Remember how combative they were with each other this season? Yeah, Darcey and Jesse acted the same way on Before the 90 Days Season 1 and the tell-all. Some things never change, like the fact that they just aren't meant to be. That hasn't stopped them from going on Season 2, though, and I'm sure fans will see them again on this tell-all.
Then there was Paul and Karine. They didn't fit the usual "American on couch, foreigner Skypes in" model either. Rather, Paul was still in Brazil at the time, and the two had a translator to avoid going back and forth with the app. Just like Darcey and Jesse, how they acted this season was much like how they acted earlier. Karine was worried Paul wouldn't return to Brazil after the show (spoiler: he did), while Paul did not trust Karine and made her take STD and pregnancy tests. Oy.
Darcey and Jesse broke up — for what feels like the tenth time — in Season 2, while Paul and Karine married. It will be interesting to see how their tell-all experiences differ this time around. What's also interesting to wonder is whether they will appear on the show next season.
While there hasn't been an announcement of a Season 3 of Before the 90 Days, I have a feeling TLC's not done with the show just yet. In their press release for the OG, 90 Day Fiancé, Season 6, TLC announced that Before the 90 Days is on track to be the highest-rated season in franchise history. Furthermore, it's made TLC the top network women watch on Sunday nights (according to their polling measures). I think it's more than likely that TLC will want to keep the momentum going and give fans what they want: another season. If that ends up being the case, some couples from Season 2 may be featured in Season 3 as well, just like Darcey/Jesse and Paul/Karine were in the first two seasons.
Before fans get their hopes up about Season 3, they can catch the reunion special of Before the 90 Days Season 2, Sunday on TLC.