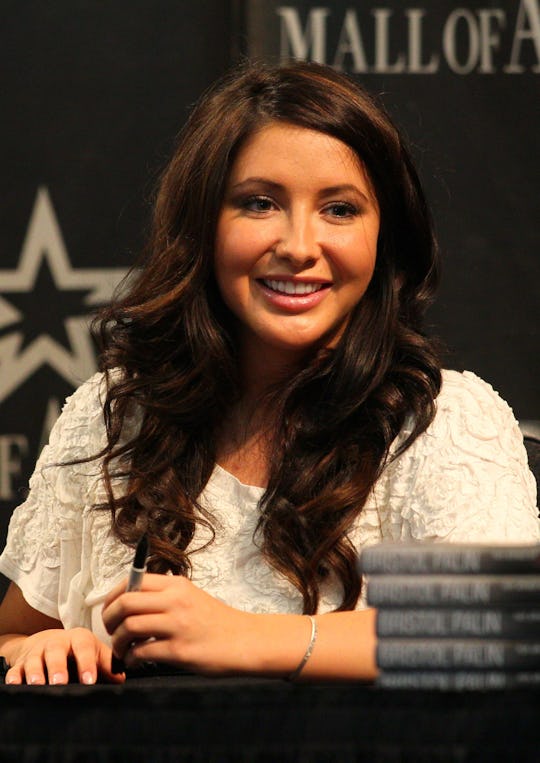 Adam Bettcher/Getty Images Entertainment/Getty Images
Where Does Bristol Palin Live? The Mom Of 3 Is Reportedly Joining 'Teen Mom OG'
It looks like MTV is doing a major shakeup of Teen Mom OG these days. After former cast member Farrah Abraham left the show earlier this year, there was a spot to fill. And it looks like it's been filled by someone rather surprising, if new reports are to be believed. Bristol Palin, the daughter of former vice presidential candidate Sarah Palin, is reportedly going to join Teen Mom OG for Season 8. And now fans need to find out everything about her, including where Bristol Palin is living these days. Spoiler alert; she's not in Alaska anymore.
Palin gave birth to her oldest child, 9-year-old son Tripp, when she was just 17 years old in 2008, according to Entertainment Tonight. It was a seriously high profile pregnancy at the time since her mom was Governor of Alaska and had recently been chosen as Sen. John McCain's running mate for the 2008 presidential election. Since welcoming son Tripp with ex-fiancé Levi Johnston, Bristol has welcomed two more children, 2-year-old daughter Sailor and 14-month-old daughter Atlee with husband Dakota Meyer, a former U.S. marine, according to Us Weekly. Bristol and Dakota were married two years ago, but the news outlet noted that Dakota reportedly filed for divorce back in February.
MTV and 11th Street Productions did not immediately respond to Romper's requests for comment regarding the reported casting news.
Palin initially met Dakota Meyers in 2014 in her home state of Alaska. According to USA Today, the pair had something of a torrid, on-again, off-again relationship before welcoming daughter Sailor in 2015. The birth of Sailor didn't seem to help the couple's difficulties, as People reported; the two were not in a relationship and were struggling to hash out custody arrangements. Meyers was living back in his hometown of Austin, Texas, while Bristol stayed on in Alaska close to her family. Eventually the pair figured out some visitation agreements, with Dakota Meyer getting joint custody of the couple's daughter. And how did they celebrate?
In June 2016, Meyer and Palin confirmed to Entertainment Tonight that they weren't just amicable; they were married:
Life is full of ups and downs but in the end, you'll end up where you're supposed to be. We are so happy to share with loved ones the wonderful news that we got married!
After getting married, Palin left Alaska and settled with Meyer in Austin, Texas. The two have lived there ever since, and welcomed daughter Atlee last May.
If Us Weekly and TMZ's "multiple sources" are correct and Palin really has joined the cast of Teen Mom OG, will she and her family be expected to leave Austin? Probably not. The other cast members of Teen Mom OG including Catelynn Lowell, Maci Bookout, and Amber Portwood live in different parts of the country, according to In Touch Weekly, so it looks like Bristol Palin might be able to stay put with her kids.
And speaking of the other cast members... wondering what they think of the possibility that Bristol Palin might be replacing Farrah Abraham? They haven't spoken publicly yet, but Kailyn Lowry of Teen Mom 2 made her feelings known on Twitter.
Bristol Palin might not be so bad for the show. She has plenty of reality television experience (she was a part of Sarah Palin's Alaska on TLC in 2010 as well as competing on Dancing With The Stars, according to Deadline), so she's no stranger to the format. I guess Teen Mom fans will just have to wait and see.