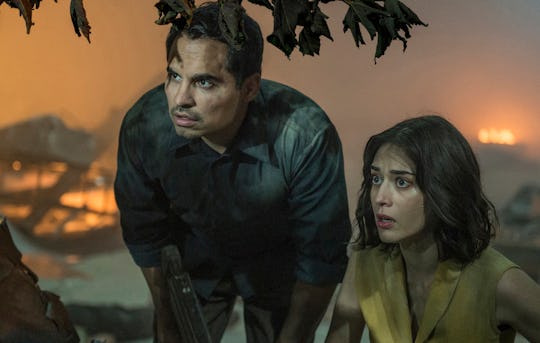 Aleksandar Letic/Netflix
Netflix's 'Extinction' Depicts An Eerie Futuristic City
Netflix's catalog of sci-fi fare seems to be growing, with new series and films being added every month. The streaming company's latest offering is the new sci-fi action thriller, Extinction, starring Ant Man's Michael Peña and Master of Sex's Lizzy Caplan. The film tells the story of a cookie cutter future that ends up facing a terrifying alien invasion. With its depictions of super sleek landscapes and modern architecture, you may wonder, exactly where does Extinction take place? It looks like it could be any modern city.
The movie actually doesn't provide to much detail about where the characters are, but it puts them in an urban city on planet Earth (that narrows it down, right?), with tall glass buildings and perfectly manicured landscaping. In an interview with Meaww, the film's director, Ben Young revealed that the movie was filmed in Eastern Europe. "We shot the film in Serbia. So I was in Serbia for about six months during pre-production and shooting of the film," said Young, "Serbia was great. We had a large Serbian crew involved and we were super busy putting in all the sweat, blood and tears."
Extinction isn't a Netflix original, the company purchased the rights for the film from Universal Pictures early this year. The movie was initially meant to be released in theaters, according to Variety, but after Universal pulled it off of their January release schedule, Netflix picked it up to distribute as its own exclusive streaming release. The movie was also co-produced by Mandeville Films' David Hoberman and Todd Lieberman, the duo behind films including The Proposal, Wonder, and Beauty and the Beast.
While the name of the city isn't revealed in the film, you can see that it is a quiet, yet bustling metropolis, and in this city you meet Peter (Michael Peña), his wife Alice (Lizzy Caplan), and their two daughters. Peter is a normal, working family man, who goes about his daily routine, from work and back, enjoying his evenings at home with his family. But he's plagued by disturbing dreams that foreshadow a destructive invasion. When his dreams end up becoming reality, Peter realizes that he may have the key to keeping his family safe from this alien attack.
The official Netflix synopsis of the film described Extinction as the story of "A working class father of the future faces recurring dreams of destruction by an unknown force. When his unwanted nightmares begin to affect his relationship with his family, he soon realizes they may be the key to a horrible reality, as a relentless alien attack begins to destroy the Earth. As the invaders' assault progresses, he is forced to find both the strength to protect his family and an understanding of who he truly is."
Along with a terrifying alien invasion, the evolution of technology and human perception play a huge part in Extinction, and in his interview with Meaww, Young discussed the message of the film. "It really comes down to how we treat each other. It's about the fear of the unknown. It's about essentially giving the enemy a face," he said, "We're all essentially human, and I think that in the world we're living in now, it's so easy to condemn people, condemn entire nations and entire peoples without taking the time to sit down and give them all a face."
Without giving away the huge twist in the movie, I can tell you that this isn't your typical alien flick. It does start out that way, but about halfway through, you might start realizing things aren't what they seem.
Extinction premieres on Friday, July 27 on Netflix.