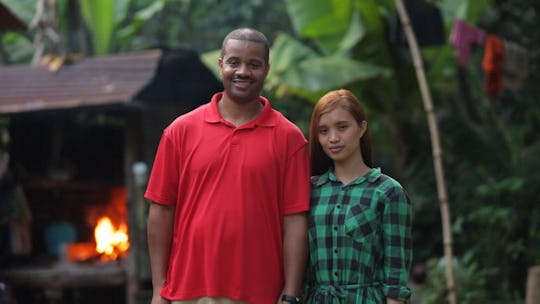 TLC
Hazel Told Tarik She Will Be Homeless On '90 Day Fiance'
On the finale of 90 Day Fiancé: Before The 90 Days, Hazel revealed some information that took Tarik — and viewers — aback. Where does Hazel live after 90 Day Fiancé: Before the 90 Days? She revealed that she does not have a place to stay after he returns to the U.S.
Hazel's Instagram is private, so there's no way for users to readily see what she's currently up to. Tarik's Instagram account is public, however, and may provide some hints. In early October he shared a video clip of him and Hazel on a plane; he raved about the Philippines and how everyone should visit, and Hazel showed off her engagement ring. Seeing as Tarik mentioned that this is their first flight as an engaged couple, my guess is they are going from the Philippines to the United States.
Perhaps Tarik and Hazel are beginning their "90 days" as fiancés, aka the original premise of 90 Day Fiancé. Per the k-1 visa law, foreigners who are engaged to Americans and living in the U.S. with them have 90 days to marry before they have to go back to their homeland. Thus, Before the 90 Days takes place before this process begins. It gives both members of the couple to see if they are truly compatible enough, or if the relationship was best online.
While Tarik posted the clip in October, there's really no way of knowing the timeline of their relationship as of yet. Hopefully they will reveal the logistics in the upcoming tell-all special, but perhaps not; since Hazel will appear via video call, she may already be back in the Philippines. I wouldn't be surprised if it was an older clip, and Tarik took Hazel back to the United States with him right away.
In a devastating scene, Hazel revealed that she would be homeless after Tarik left her. While she could maybe stay at her niece's house, Hazel insisted that it was cramped and she wasn't comfortable staying there. Furthermore, she said earlier this season that all her belongings are in storage at her ex's house. Not only that, but Hazel and her ex also have a child. When asked why she doesn't have custody of her son, Hazel said, "My son lived with me when he was three years old. I love him but I didn't have enough money and so I give my son to his father." She also mentioned that if she and Tarik become serious, that she would want custody again. Hazel continued, "If I have a good future with Tarik, I want to get my son again."
This all tugs at my heart strings — the homelessness, having storage at her ex's, her child — and I don't even know Hazel. I can't imagine how Tarik would feel about all this, but from the Instagram clip it seems like he decided to help her the only way he knew how: by taking her back to the United States.
Again, that clip could be old — but Hazel could possibly return to the U.S. Furthermore, she and Tarik could be married. While last week's episode of Before the 90 Days was technically the finale, I don't think the season could properly end without the tell-all special. There are still some loose strings, like the status of Tarik and Hazel's relationship and whether she went to the U.S. and back again.
I'm curious (and I know other fans are, too), about the status of all the Before the 90 Days couples, so thankfully all our questions will be answered with the tell-all. While we wait, we can listen to Tarik's song "Far Round the Way Girl" over and over again.