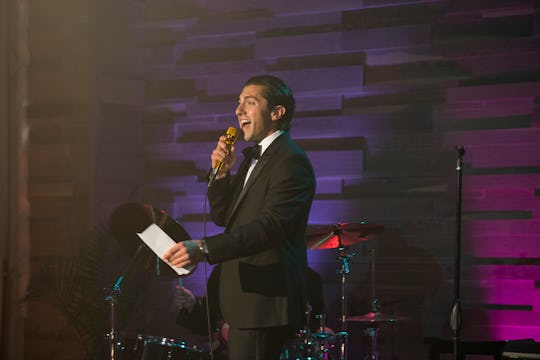 Paul Hebert/ABC
Is Jason Going To Stay On The West Coast After 'The Bachelorette'?
As it gets closer and closer to the finale of The Bachelorette, the more I want to get to know the remaining contestants. One of the top six is Jason. Where is Jason from The Bachelorette living now? The Buffalo native has been living on the west coast for a long time.
In his Instagram bio, Jason mentions his current location as Seattle, Washington. And on his LinkedIn he lists his job as Vice President - Senior Middle Market Banker at Key Corporate and Commercial Bank in Seattle. Jason's a bit far from home, though: he's originally from Buffalo, New York Both his ABC biography and his Instagram biography list the upstate New York city as his hometown.
While Jason's current home base is Seattle, The Bachelorette has taken him to many a new locale already. As with every Bachelor or Bachelorette season, they started at the mansion in Los Angeles, but they've since jetted off to Park City, Utah; Las Vegas, Nevada; and Richmond, Virginia. On Monday, Becca and her top six head to the Bahamas. Knowing the show, that won't be the last location they go to. Not only do the final three go to an ~exotic~ location, but before then is hometown dates which is for the final four contestants. I don't know if Jason will make it that far, but I have a feeling they'll go meet his family in Buffalo.
"When Jason's not rooting for his hometown Buffalo Bills, he's belting out tunes from his favorite Disney movies," his ABC biography states. It seems that while Jason's job is in Seattle, he still carries a lot of hometown pride. From his Instagram, he definitely visits often. There are several photos of him with family and friends there, including at the Friends of Carly White Party. The charity supports children with cancer and their families in western New York, where Buffalo is located. Jason has gone to these White Parties for several years in a row, so he definitely still has roots in Buffalo.
During Becca and Jason's first one-on-one date in Richmond, Becca surprised Jason by bringing along some of his friends. I did some Instagram snooping, as one does, and saw that Jason posted a photo of them all from the date and tagged his friends. They appear to be from Buffalo as well (they were at the White Party, for example), so these friends probably go way back. Jason's reaction to seeing his friends was so sweet, fans definitely noticed it. If that's what a Jason hometown date would look like, then I'm all in.
I do wonder where Jason will live in his post-Bachelorette life. Many franchise alums move to Los Angeles in order to become social media influencers or podcast hosts. Given that Jason is a banker, though, I don't really see that happening for him. He truly doesn't seem like an LA guy to me, but banking is one of those jobs that could be done anywhere, so I may be wrong! And perhaps he wants to give it all up and be sponsored by Sugar Bear Hair, although somehow I doubt that. He may go the Ben Higgins route and go back to his career!
Depending on when Jason leaves the show — if he doesn't win, that is — there's also a chance that he will be the next Bachelor or be on Bachelor in Paradise. As he's still on the show it's impossible to find out if either of those are possibilities now, but it's something to look out for should Becca send him packing back to Seattle.