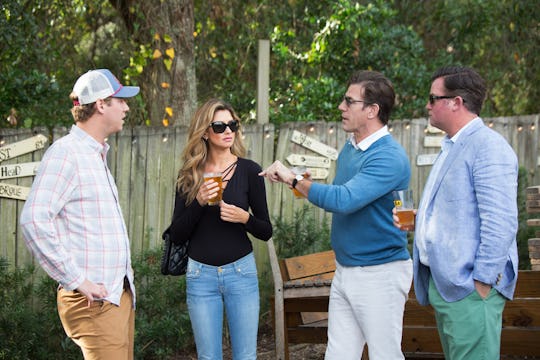 Paul Cheney/Bravo
'Southern Charm' Star Ashley Jacobs Isn't Originally From Charleston
Unlike some members of the Southern Charm cast, Ashley Jacobs isn't from Charleston, South Carolina. Not only is she new to the show, but she's new to the area, having moved in the last year so she could be close to boyfriend, Thomas Ravenel. But if she isn't from S.C., then where is Ashley Jacobs from Southern Charm from?
Ashley is originally from California. According to Town & Country, she was born in Los Angeles and spent some of her formative years there, but split time between L.A. and Santa Barbara while she was growing up. To get even more specific, Ashley is from Montecito, and it's a place she seems to have a particular fondness for. On Instagram, she posted a picture of the coastline and captioned it, "My beloved Montecito. My hometown, and one of the most beautiful places on earth." She offered well wishes and prayers to those affected by the mudslides in January 2018, finishing, "Wish I was there to help. I know Montecito will be back, and better than ever."
Ashley first met Thomas in California, too. The story of their introduction came up in the Season 5 premiere of Southern Charm, but Ashley shared her version of events with Town & Country through her press representative Patricia Maristch.
Ashley and Thomas initially crossed paths in a bar in Santa Barbara. "Ashley had only seen a few episodes of the show, which she discovered because one of her patients was watching the show and one of her best friends is a big fan," Maristch said, referring to Ashley's job as a registered nurse. She continued:
When Ashley was at the bar and saw him she knew she had to get a picture with him to send to her friend, and she also felt bad because he was by himself. She invited him over to her table with her friends, and the rest is history.
Ashley and Thomas weren't dating for long before she decided to move across the country to be closer to him. They were only three months into their relationship when she left Santa Barbara behind for Charleston. Since she was a nurse, it wasn't too difficult for her to work from another state; she simply had to be licensed for S.C. and she could begin to work. According to Maristch, Ashley thought, "What do I have to lose?" She moved in August 2017 and had her nursing license by May 2018.
Despite having an obvious affection for her hometown, Ashley is enjoying life in her new locale. She told Bravo's The Daily Dish that she had "really learned to make [Charleston] my home." It took some time for her to get settled, but the city began to feel like a good fit for her. Even if she and Thomas were to break up, she might stick around. Ashley explained:
Once I started working, I got a job, traveling, driving, I started to see it with a different perspective, not just going out to dinners and driving with my boyfriend. I'm like, 'I've got to get around town.' I'm like, 'Wow, this is my home.' I have to give myself a pat on the back because I never thought I would get to this place where even if things didn't work out in my relationship in the future, I could still see myself out there.
Ashley may not be a Southern girl originally, but seems to have taken a real shine to life down South. There's no way to predict exactly how things might turn out, but it sounds like she could end up staying in Charleston for the foreseeable future.