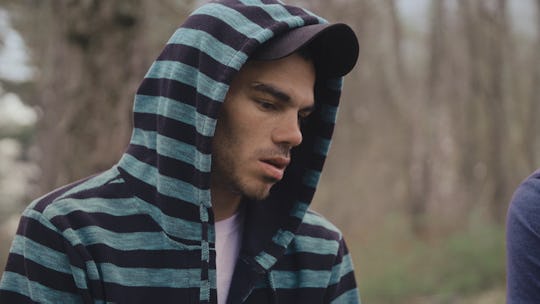 Netflix
Here's What We Know About How Jeff From 'Recovery Boys' Is Doing Now
Recovery from opioid addiction is terribly difficult, as documented in Recovery Boys, a new film that follows four men at a rehab facility in West Virginia. Viewers get to know the men at one of the most vulnerable times of their lives, so it's only natural to wonder how they're doing now that the cameras are off. According to The Guardian, Ryan and Rush are still sober, but what about the other men? Like, where is Jeff from Recovery Boys now? He was going through a lot.
Ryan said that he was back in Morgantown, West Virginia, and that it was a "huge community of recovery." He added that he hoped the documentary humanized addicts and recovery, which are often talked about in statistics and numbers. Ryan told The Guardian, "My hope for this documentary is that it de-stigmatized the addict. Everybody thinks of the guy under the bridge with the tattoos, the beard. We're not just all bad people. We are good people inside." It's good to know that Ryan and Rush are sticking to their sober living plan.
Unfortunately, there isn't a lot out there about Jeff (or Adam, the other man in the doc) and what he's doing now. Hopefully the 25-year-old and dad of two daughters is taking care of himself and staying sober, wherever he is.
Per The New York Times, Jeff has struggled with relapse and has overdosed before. He showed up at Jacob's Ladder, the farming rehabilitation center featured in the documentary, as a three time felon just released from jail without a job. Since he was just released from jail, he didn't have permission to leave his hometown, making his recovery even more precarious. The rates of opioid addiction in West Virginia are so high that his small town is unfortunately populated by addicts, making it hard to stay clean. If your friends and family members aren't sober, fitting back in can be hard.
The documentary, directed by Elaine McMillion Sheldon, who also made Heroin(e), really humanizes the opioid epidemic, which was the mission. Sheldon told The New York Times in another interview:
I had seen enough in the media about the problem. I wanted to show life through the eyes of people in recovery. When we embarked on this, it really was trying to find something that gave me hope. I wanted to find people who were actively trying to do something about the situation.
The intimacy between the filmmaker and her subjects was real, making the documentary all the more captivating. Sheldon told the Times that it was hard to not get too involved. She said:
It's really hard watching people struggle. You want to step in and help, but that's not really your role. There were times when Adam needed a place to sleep and I asked Kerrin, my husband, "Should I let him sleep on our couch?" And we decided no — that was an ethical boundary we just couldn't cross. The motive is always do no harm; your job is to tell the truth, and document what's happening.
Documenting the crisis is quickly defining Sheldon's career. She told the Times that she hopes to capture the next generation and follow up with these stories. "I think one of the bigger stories is what's going to happen to the kids — the generation behind the people currently suffering from substance abuse disorder, overdosing and dying, locked-up in prison, or getting their kids taken away from them," she said. "[That is] the next impending crisis that we have to look at."
Sheldon understands how complicated addiction and recovery can be, which is why it's worth hoping that Jeff and his kids are doing alright these days.