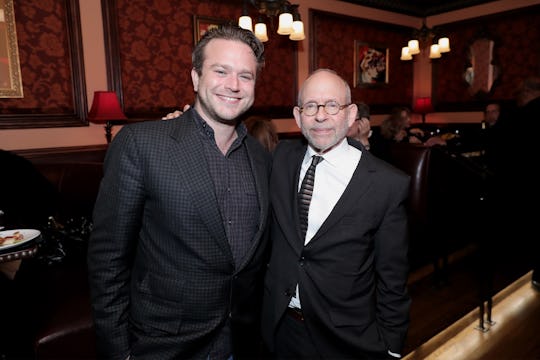 Neilson Barnard/Getty Images Entertainment/Getty Images
Robin Williams' Son Works To Help People, Just Like His Dad
The new HBO documentary, Robin Williams: Come Inside My Mind, will include interviews with some of the people closest to Williams, including his son, Zachary "Zak" Pym Williams. So where is Williams' son now and what will he share about his dad in the new doc?
Zak is Williams' eldest son from his first marriage to Valerie Velardi. Zak is now 35 years old and is married to Alex Mallick, the executive director of Re:store Justice, a group that works with incarcerated men and women in California jails. The couple clearly has similar interests. Zak, who got his MBA from Columbia University, is dedicated to bringing financial literacy education to at-risk communities, primarily in prisons.
In 2015, he co-taught weekly classes to incarcerated individuals at San Quentin State Prison. In an interview with TODAY.com, Zak said, "I come from an entitled background where I could have not worked hard — just coasted for a chunk of my life, up to a point. But I opted to take pride and joy in the work that I do and to establish accountability." Although Zak didn't choose to go into show biz like his dad, it's clear he has the same desire to help people and make the world a better place.
It's unclear whether or not Zak still works with incarcerated people, but it's clear he's still helping others. According to his LinkedIn page, he's currently a board member at Bring Change 2 Mind, a nonprofit organization co-founded by Glenn Close and her nephew, Calen Pick, to encourage dialogue about mental health and raise awareness. He's also a Board Member for the Yerba Buena Center for the Arts and San Francisco Film Society. In addition, Zak works for a tech company called Fizz.io.
Although Zak does have a Twitter it hasn't been updated since 2016, and it looks like he keeps his life pretty private, which is why his appearance in the new documentary is a little surprising. In a clip of the documentary, Zak is seen discussing his father's struggles, specifically about feeling successful. Zak says his dad often felt like he wasn't succeeding even though to Zak he was "the most successful person I knew."
Williams passed away almost four years ago on August 11, 2014 by suicide. He was found in his home in Paradise Cay, California. Although Zak will be in the documentary it doesn't look like Williams' two other children, Zelda and Cody, will. Zelda and Cody are the children of Williams' second wife, Marsha Garces. Though Cody stays pretty firmly out of the spotlight, Zelda has followed her father's footsteps and gone into acting. Most recently Zelda was in the film, Locating Silver Lake, and she'll be in the TV series, Dark/Web, which is set to release sometime this year.
As for Cody, although he stays out of the spotlight, thanks to his big sister's Instagram, fans now know that he got engaged on Valentine's Day this year. Based on her Instagram handle, it looks like Cody's fiancée's name is Maria Flores and she's in a band called Bone Nest. Other than that though, there's not much to know about Cody and it's not all that surprising that he won't be participating in the documentary.
Along with Zak, a number of Williams' friends and colleagues will be sharing their own anecdotes and reflections on Williams' life. Those stars include Steve Martin, Billy Crystal, David Letterman, and Pam Dawber, who starred in the series, Monk & Mindy, alongside Williams.
The new documentary, Robin Williams: Come Inside My Mind, premieres tonight on HBO at 8 p.m. ET. Don't miss it!