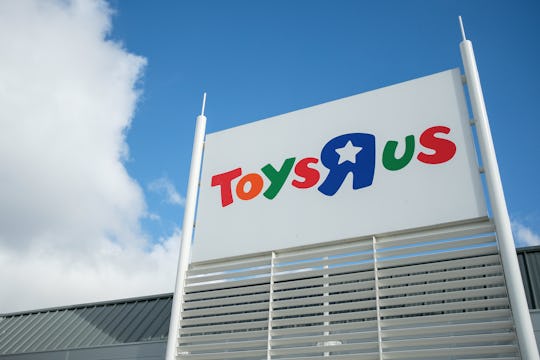 Leon Neal/Getty Images News/Getty Images
Toys "R" Us Is Closing 182 Stores Across The Country — Check To See If Yours Is On The List
A retail giant is about to get much smaller. Childhood wonderland Toys "R" Us revealed late Tuesday that it will close up to 182 of its stores, as part of its Chapter 11 bankruptcy reorganization plan. But will your local Toys "R" Us close its doors, forcing you to just order everything off the internet forevermore? It's very possible. If the company does indeed shutter all the stores named in the court documents it filed, customers would have to say goodbye to around one-fifth of the current branches.
To see a full list of which stores are closing, and to check the status of your store, click this link, compiled by USA Today. Store closings could start as soon as early February, although the majority of the closures will take place in mid-April, according to a letter to Toys "R" Us customers written by the company's chairman and CEO, David A. Brandon:
The reinvention of our brands requires that we make tough decisions about our priorities and focus. To that end and following a top-to-bottom assessment of our business, we have decided to close a number of our U.S. stores... The actions we are taking are necessary to give us the best chance to emerge from our bankruptcy proceedings as a more viable and competitive company that will provide the level of service and experience you should expect from a market leader.
Still, there is a chance that some of the Toys "R" Us stores slated to close will be able to negotiate more favorable lease agreements and stay open after all, according to Kotaku, a video game website that is part of Gizmodo Media Group. But in the meantime, if your favorite Toys "R" Us is on the closure list, you might as well take comfort in one bit of positive news — the going out of business sales are bound to be good. In his letter to customers, Brandon promised "deep discounts," so load up the kids and get in on those sweet deals while you still can. Just be prepared to wait in long lines, while every other parent in town tries to do the same thing.
The idea of a local, well-loved Toys "R" Us store closing is bound to be heartbreaking to many a kid across the country. After all, what's more exciting than a gigantic store with aisle upon aisle filled with all the toys you could ever want? Seeing a picture of a cool toy on Amazon doesn't provide nearly the same rush as finding it stocked on a shelf among a bunch of other amazing goodies. Just ask this little girl:
And the closures may hit some adults in surprisingly personal ways too. Of course, if your kid loves outings to your local Toys "R" Us, you might feel bummed about losing that particular form of bonding and joy. But also, so many of today's moms and dads grew up with that "I'm a Toys 'R' Us kid" jingle lodged in their brains. The store represented a kind of holy grail of commercial consumption. A day that included a trip to Toys "R" Us was a very exciting day indeed. Sure, it's common knowledge by now that Amazon and other online outlets are putting brick and mortar stores out of business in droves. But what's happening with Toys "R" Us feels particularly personal. (Then, of course, there's the sad fact that these closings are also bound to put a whole lot of people out of work.)
Hopefully, if your local store is on the closure list, you can find a nice mom and pop toy store somewhere nearby to go to instead, whenever you and your kids are craving that sweet, sweet live toy-shopping experience. And if not, I guess there's always Target and Walmart.
Check out Romper's new video series, Romper's Doula Diaries:
Watch full episodes of Romper's Doula Diaries on Facebook Watch.