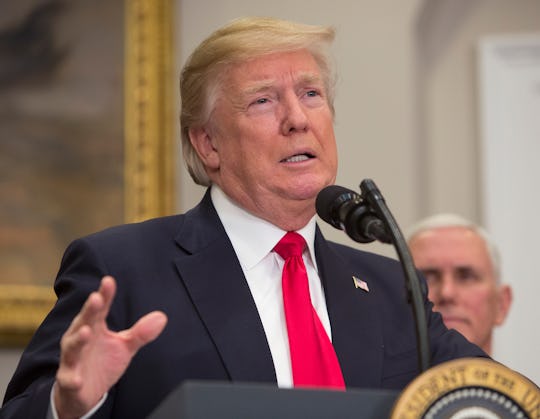 Pool/Getty Images News/Getty Images
Here's A List Of Officials Who Are Boycotting The 2018 State Of The Union
President Donald Trump will soon be delivering his first-ever official State of the Union address to Congress. Although our president addressed a joint session of Congress last February, the speech on Tuesday will technically be his first official State of the Union address. That's right — the big day has arrived. At 9 p.m. Eastern Time on Tuesday, Trump will speak live on all major cable and news networks. But who is boycotting the 2018 State of the Union? The list just keeps growing, that's for sure.
Although all members of Congress are typically in attendance for State of the Union addresses, some Democratic Congress members have made it a point to sit this one out. In fact, USA Today reported that the list of Democrats who are boycotting the State of the Union address is only getting longer. The reason for their planned absence? For many, it has to do with an alleged racial slur about immigration made by Trump. (Read: Trump's "sh*thole countries: remark.) For others, it's because of their objections to Trump's overall rhetoric ad politics. Here is a look at the current list of Democrats saying they won't be in attendance at tonight's address:
Rep. Earl Blumenauer Of Oregon
Earl Blumenauer was the first to announce he will not attend the president's address. Rather than "listening to yet another destructive and divisive speech by Trump," Blumenauer will be in Oregon listening to constituents, reported USA Today. He also announced on Facebook that he'll send an Oregon "DREAMer" in his place, "to remind Trump that these are real people with families and jobs, who are vital to our communities," he explained via Twitter.
Rep. Pramila Jayapal Of Washington
In a HuffPost op-ed, Jayapal explained, "I join other distinguished members, including Rep. John Lewis, in refusing to dignify a president who has used the platform of the Oval Office to fan the flames of racism, sexism and hatred — most recently with his vulgar condemnation of Haiti and other African countries." So yeah — don't expect to see her at Trump's address today.
Rep. John Lewis Of Georgia
Rep. John Lewis of Georgia announced on MSNBC that he wouldn't be attending Trump's speech following reports of the president's sh*thole comments, according to CNN. "At this junction, I do not plan to attend the State of the Union,," he told the news network. "I cannot, in all the conscience, be in a room with what he has said about so many Americans. I just cannot do it. I wouldn't be honest with myself."
Rep. Maxine Waters Of California
"I don't trust him, I don't appreciate him and I wouldn't waste my time sitting in that House listening to what he has to say," Waters said on MSNBC, according to USA Today. "He does not deserve my attention."
Rep. Frederica Wilson Of Florida
"I'm not going because to go would be to honor the President and I don't think he deserves to be honored at this time, after being so hateful towards black people and then black countries, Haiti and the whole continent of Africa," Wilson told CNN. "It hurts."
Rep. Jan Schakowsky Of Illinois
"The language and actions of the president should not be considered the new normal and just proceed as business as usual," Schakowsky told the Chicago Sun-Times. "The American people have been subjected to a year of racist and erratic and divisive behavior."
Rep. Gregory Meeks of New York
"I cannot give this man, who does not respect me, the respect to be in that audience," Meeks said on MSNBC, reported USA Today.
Rep. Albio Sires Of New Jersey
"The congressman is not attending the State of the Union because many of his constituents are offended by the president's rhetoric and behavior," Sires' spokesperson told N.J. Advance Media.
Rep. Bobby Rush Of Illinois
"This has been the most chaotic, divisive, and incompetent first year of any administration and I will not sit and watch as Trump pretends that he's off to a successful start," Rep. Bobby Rush tweeted on Jan. 29.
Other Democrats who have confirmed they will not be in attendance include: Reps. Barbara Lee of California, Juan Vargas of California, and Danny Davis of Illinois, according to USA Today. Justice Ruth Bader Ginsburg also won't be attending Trump's first SOTU, though her spokesperson declined to comment or say it was part of a "boycott," according to CNN.
If you're not planning on boycotting the State of the Union address — as many non-lawmakers across the nation are — just turn on your TV at 9 p.m. EST this evening, and it shouldn't be too hard to find. Additionally, the address will be live-streamed from the White House YouTube channel for those who don't have access to a television. It's bound to be a memorable experience.
Check out Romper's new video series, Romper's Doula Diaries:
Watch full episodes of Romper's Doula Diaries on Facebook Watch.