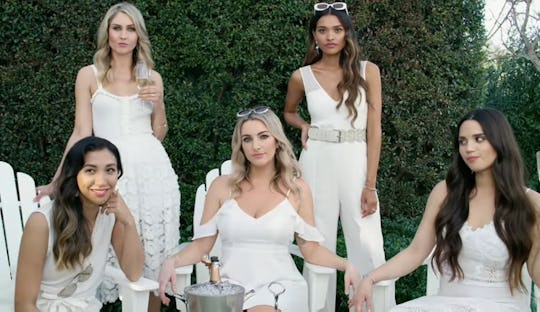 MTV/YouTube
Meet Chandlar, One Of The 'Pretty Little Mamas' On MTV's New Series
If you love Teen Mom, MTV has a new show that is perfect for you. Pretty Little Mamas is a new reality series that follows a group of five best friends who live in San Diego and are all young moms. The five friends — Nicole, Nikki, Chandlar, Cheyenne, and Alyssa — have been friends since high school, but one was exiled from the group for three years. That would be Chandlar. So who is Chandlar and why was she banished from the group?
Chandlar is now 25 and, according to Page Six, in the show's premiere she rejoins the group after having ditched them three years ago for her drug-addicted boyfriend, Aaron. According to People magazine, Chandlar finds common ground with Nicole, the leader of the group, and is welcomed back into the fold. Chandlar has a daughter, Aubrey, with her ex-boyfriend who was paralyzed after a BMX accident. Chandlar is also expecting another child with Aaron and according to Us Weekly, she considers herself a "cool mom."
Although the show has not premiered yet, it has already received some backlash for glamorizing life as a young mom. In a recent interview with Page Six, Chandlar challenged those claims, defending the show.
"I just think people should tune in and really get to know us before they judge," she said. "I mean you can't judge a book by its cover. We're a lot more relatable than you would think."
She added, "We've read some of the comments and they're just like, 'Oh, please.' I'm not in the trailer a whole lot, so it's for the other girls. I get it, but they don't know me yet. They're just going to have to wait and see."
Nikki also opened up to Page Six about her hopes for the show. She said, "I'm really just excited to have people see us really develop as a group of girlfriends and just seeing our dynamic and really seeing what a strong group of young moms look like. And really understanding that being a young mom isn't glamorized in any way. I know that was a big misconception with our show and stuff, but when you get to watch you'll understand that we're just trying to be normal and balance it all. So I think the viewers will be really pleased with our series."
Each one of the women are facing their own struggles throughout the series. Nicole, 24, is balancing graduate school, her social status, and motherhood while still living with her parents ... and a full-time nanny. Nicole's biggest struggle will be balancing life as a mom with her boyfriend, Michael, who leads a party filled life. Alyssa, 25, seemingly has it all together as she raises her son, Kayden, and is engaged to Kayden's father, Brandon. However, her mother's failing health turns her life upside down.
Cheyenne, 24, is the only married member of the group, but her husband, Teli, is struggling to keep a job and they are currently living at her dad's house with their two kids. Nikki, 24, is the newest member of the group and though she has a blossoming modeling career, her relationship with the father of her daughter, Alaia, is rocky.
The new series definitely has the potential to be another big hit for MTV. Centered around a group of friends who clearly love and support each other, but also are not afraid to let their opinions be known, Pretty Little Mamas will probably be filled with drama and laughs, making it a must watch.
Pretty Little Mamas premieres on MTV on Thursday, Aug. 30 at 9 p.m. ET.