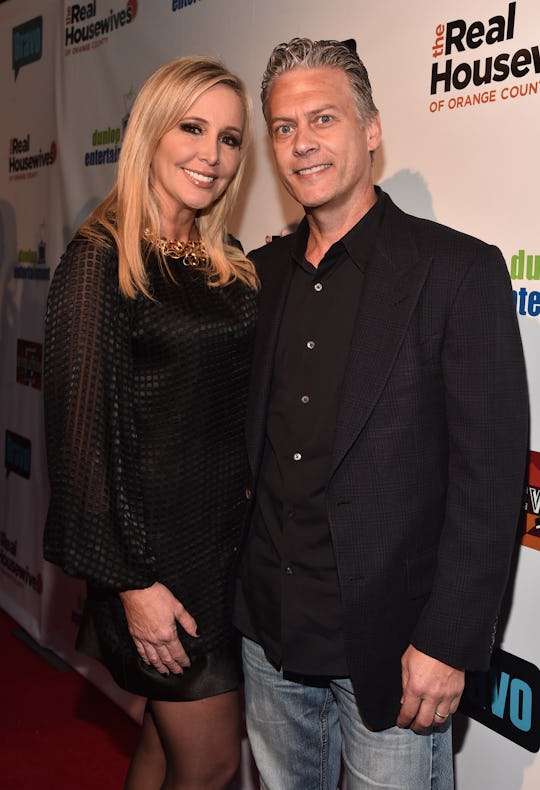 Alberto E. Rodriguez/Getty Images Entertainment/Getty Images
Shannon Beador's Ex-Husband David Is In A New Relationship
Fans of The Real Housewives of Orange County have followed Shannon and David Beador's marital troubles over the course of several seasons. They started off trying to work past David's affair and seemed to be doing well for a while after renewing their vows. But they ultimately decided to separate, something Shannon is still reeling from in Season 13. It's especially difficult for her because David is already in a new relationship. But who is David Beador dating now?
David is dating a woman named Lesley Cook, according to the Daily Mail. Lesley isn't in the public eye much, so there isn't a lot of information available about her, but Radar Online reported that she is 34 years old and mother to two young kids. She lives in Newport Beach, as her Instagram account @lovinglifeinnewport indicates. Her children are featured all over the 'gram, interspersed with pictures of her and David, as well as some beachy scenery. It even looks like she and David got matching heart tattoos on their fingers, so it must be serious.
Lesley has also used social media to address rumors that she and David had an affair while he was still married to Shannon. That was something Tamra Judge suggested on RHOC, but Lesley insists it isn't true.
Lesley posted a clip from the Season 13 premiere in which Shannon confided in Tamra about how she was feeling. It was difficult for her to see David move on just a few months after their divorce. In response, Tamra mentioned that David had been commenting on Lesley's posts long before that. According to Lesley's caption on the clip, "what Tamra states as fact is an absolute lie. David & I Met in December 2017. It wasn't even possible for us to be talking in October... David DIDN'T cheat on his ex with me [sic]."
Lesley claimed that she reached out to Tamra to set the record straight, but was blocked. The situation was causing Lesley so much stress that she also spoke to Us Weekly to clear the air. She explained that she and David met at a SoulCycle class in December, which was the same month that Shannon filed for divorce. "I just wanted to speak out on David's behalf because of all these negative things I have been reading about him being a bad dad," Lesley said. "Please, this man goes above and beyond for his daughters."
Lesley continued to praise David as a father, saying:
David is an absolutely amazing dad. He takes his daughters to school every morning, well the ones that don't drive. He takes them to all of their after school activities, drives them to their tournaments, and is always there for them. His daughters are the absolute light in his life, and he loves them so very much. The girls will always come first.
Lesley has apparently met David's three daughters, Sophie, Stella, and Adeline. During an appearance on Watch What Happens Live with Andy Cohen, Shannon said that the girls were okay with Lesley, though Shannon herself had not met her. Things were less than friendly between Shannon and David, though they were in contact because of their kids.
David had nothing but praise for Lesley while speaking to Page Six about his new relationship following quickly on the heels of his divorce. It seemed like he wanted to diffuse some of the rumors flying around after the Season 13 premiere. "Lesley is [a] beautiful, amazing, happy [woman] and mother," David said. "She and her family do not deserve the negative press those two [Tamra and Shannon] conjure up."
Though David and Shannon are still dealing with all the difficulties that come with a divorce, it seems like he really has moved on.