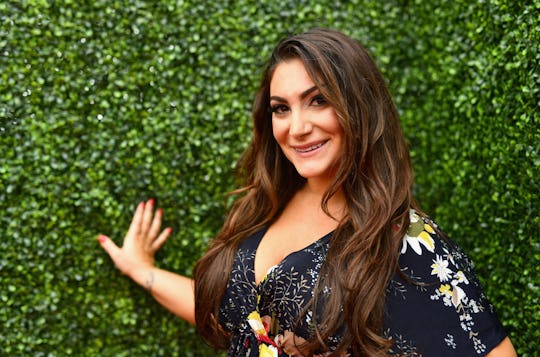 Emma McIntyre/Getty Images Entertainment/Getty Images
Everything You Need To Know About Chris Buckner, 'Jersey Shore' Star Deena Cortese's Husband
The Jersey Shore alumnus are seriously growing up, and it seems like every other day comes a new announcement that another one of our reality TV favorites is celebrating another amazing life milestone. Following in the footsteps of BFFs Snooki (who goes by Nicole now) and Jenni, Jersey Shore's Deena has announced her first pregnancy. It's likely prompted some fans to wonder: Who is Deena Cortese's husband? The Jersey Shore star and Chris Buckner announced on Monday that they have a baby on the way.
Cortese posted a series of photos to Instagram announcing that she and Buckner were expecting, as Cosmopolitan reported. "Chris and I Decided to wait until we were ready to spill the beans! Now that we are safely into our second trimester.. us and our little monkey are ready to tell the world Our little family is growing!" she captioned the photo. People reported in October of last year that she and Buckner tied the knot at a winery in New Jersey, with the full Jersey Shore cast in attendance. According to In Touch Weekly, the two met through mutual friends, and according to their wedding website, were together for five years before they got married. In that time, they bought a house together, and also got a dog named Cali.
But as for Buckner himself, well, fans may know a bit less about him than they do his reality TV famous wife, Cortese. In Touch Weekly also reported that Buckner is from Edison, New Jersey, but that the couple currently live in Freehold, New Jersey. In the same report, the magazine explained that Buckner listed on social media that he works for Professional Sports Publications, which is a publisher of souvenir magazines.
However, avid fans of the show will recall that Buckner did actually appear on Jersey Shore briefly. According to his IMDb page, Buckner appeared on Season 5 and 6 of the show, and then again on Couple's Therapy with Cortese back in 2014. Two years later, Entertainment Tonight reported that the pair got engaged while on a trip to Mexico. "I always knew I would spend the rest of my life with Christopher," Cortese began on an Instagram post that confirmed the news. "But last night while we were walking on the Beach in Mexico he made it official!! We're engaged!!!!!"
Now, as the couple prepares to embark on their newest adventure together ― parenthood ― Cortese has already answered a few of the most burning questions fans have about their brand new little one. Is it a boy or a girl? When is Cortese due? And of course, what will the baby's name be? Addressing all of the above, Cortese added to the announcement post:
We have a sweet little boy on the way! We Are truly blessed and our hearts are filled with so much joy and happiness. December can't come soon enough! Daddy and Mommy can't wait to meet you Christopher John. You are going to be the most spoiled little boy ever!!!!
As for what's next for the parents-to-be, returning to TV is up next, as MTV has confirmed both Cortese and Buckner will be joining their former cast mates on Jersey Shore: Family Vacation when it premieres this August. It seems like a fitting step, given that People reported co-stars Nicole (Snooki) and Jenni (JWoww) were also on the show with their small children. Newsweek reported that given the timing, it's likely Cortese was already pregnant while filming the show.
Whether she was or wasn't, it's clear that both Cortese and Buckner are super excited to welcome a new addition to their family, and to watch the next generation of Jersey Shore grow.