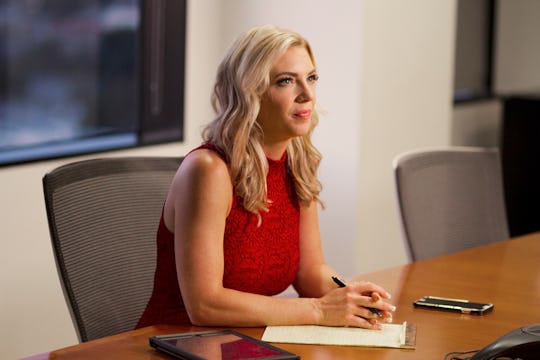 Lifetime/Kinetic Content
Dr. Jessica Griffin On 'Marriage At First Sight' Doesn't Mess Around
Married At First Sight probably wouldn't work as well as it does if there wasn't a team of experts on hand to help singles find their appropriate matches for marriage. As to be expected, there are experts there to counsel and inform on sex, love, marriage, and healthy relationships. But fans are probably wondering who Dr. Jessica Griffin from Married at First Sight is, especially since she's unafraid to get her hands dirty on the show.
Fo example in Season 6 when Molly and Jon met with Dr. Griffin for another counseling session, she pushed Molly to be truthful with her about the goings on in their marriage and it showed how much Dr. Griffin is willing to work to get through to people. On Married at First Sight, Griffin is one of the relationship experts at the disposal of the newly married couples, but in real life, there's so much more to her. She's been a licensed psychologist for almost 15 years and has counseled families, children, and couples for even longer than that. She has her own private practice where she lives in Massachusetts, and she's been featured in a number of different news outlets as an expert on childhood trauma, relationships, and family issues.
Given her extensive background in the area of trauma relating to children more than anything, it is a little surprising that she's a marriage counselor on Married at First Sight. Even so, she seems to have zero regrets about taking on the role years ago.
"Although I did not seek out television, working in this industry has been fun, exciting, challenging, at times exhausting, but incredibly professionally stimulating and I am glad I said yes to the opportunity," Dr. Griffin wrote on her blog. "I have watched people fall in love, gain insight or perspective they did not previously have, and grow (and even grow up!) immensely within the wild world of filming a reality docuseries."
She also wrote that although she is a licensed psychologist outside of the show, her work on Married at First Sight isn't meant to be used in place of real therapy off-camera.
Outside of the show, Dr. Griffin keeps busy with her other professional positions that don't require being camera-ready. She's an assistant professor of psychiatry and pediatrics at the University of Massachusetts (UMASS) Medical School as well as the executive director of UMASS Medical School's Child Trauma Training Center. Her private life is mostly private, but Dr. Griffin does have three children who pop up on her Instagram from time to time and when she's not working or traveling for work, it looks like she spends as much time with her family as she can.
Dr. Griffin is just one part of the machine that makes Married at First Sight work so well. While she didn't seek out television as a way to further her career, she seems to welcome the experience it's offered her so far and her expertise has been more than necessary for the couples who come and go on the show. She's part of the process for each newly married couple and thanks to her years of experience with couples and families alike, Dr. Griffin might help these newlyweds make their relationship actually work.