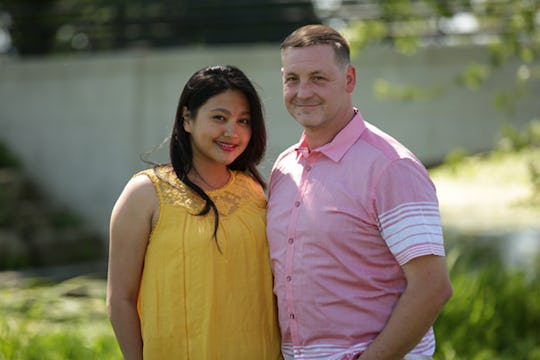 TLC
Eric Leaves A Big Impression On '90 Day Fiance'
While most people are probably watching scary movies to gear up for Halloween, I've been rewatching the 90 Day Fiancé trailer in preparation for the new season. Given that the cast is all new, fans may have started digging for more information on the people lucky — or unlucky — in love like Eric. So, who is Eric on 90 Day Fiancé? He made a big impression on me in the trailer, and not necessarily a good one.
According to TLC in their press release about 90 Day Fiancé Season 6, Eric is a 40-year-old from Wisconsin. He's a divorced father of three daughters and met his fiancé, Leida — a 29-year-old from Indonesia — on an "international website." The two win the award for fastest engagement of the season: Eric apparently proposed after just two days. "Eric hopes that Leida and her son will help create a happy blended family along with his kids," TLC's press release states. "But the age difference between them has Eric's children concerned about Leida's true intentions." Furthermore, Leida is from a rich family in Indonesia, which may be a second source of conflict: "In addition, Eric is fully aware that the life of luxury Leida is used to might make it challenging to adapt to his middle-class lifestyle."
This point of contention between Eric and Leida, their class difference, was hinted at in the Season 6 90 Day Fiancé trailer. In a clip, Leida walks into Eric's apartment and goes "what the f*ck is this?" I have to admit, Eric's apartment is not a good look for him: it's dirty and unkempt, and this is what it looks like when he's showing it to his fiancé for the first time. I shudder to think what it looked like before he "tidied up" for Leida. In the trailer it seems that Eric believes Leida thinks his place is gross because she comes from a rich family, but I have to disagree. Eric didn't have to have his clothes on the floor or old coffee cups (with coffee still in them), no matter how much money he has in the bank. Just saying.
Still, he saw Leida's disdain for his space as a red flag. "Leida comes from a wealthy background," Eric says in a confessional during the trailer. "I'm concerned the life I have here isn't enough for her." Leida asks Eric why he doesn't get a maid and he just firmly says they're not going to get a maid.
Since the trailer didn't feature the pair that much, I wanted to see if I could find anything else about Eric through social media. Leida has an an Instagram account — where she's posted a lot about herself and Eric — but never tags him, which leads me to believe he doesn't have his own Instagram. Regardless, fans can get more information about Eric through her account, like a sneak peak at the 90 Day Fiancé premiere.
In the clip Leida posted, Eric says that he believed the universe "wanted him single." He actually planned to go to Turkey or Syria to, in his words, "fight ISIS," but beforehand he wanted to give love one last shot. This led him to posting an ad on the international website where he said he was a divorced man looking for someone to share a life with him in America. Leida was one of the first people to respond to him, and they hit it off.
Fans will undoubtedly learn more about Eric and Leida — and whether they make it past the three months together — this season on 90 Day Fiancé.