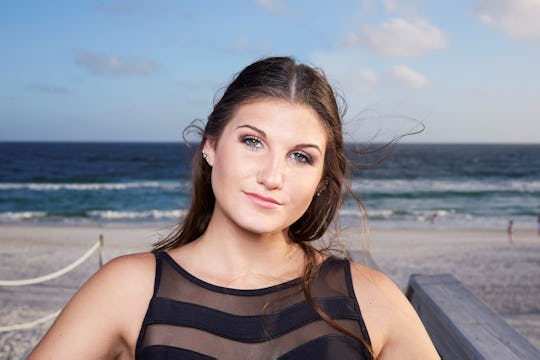 MTV
Kortni's Relationship With Logan On 'Floribama Shore' Is So Complicated
There's always drama on Floribama Shore, but there is a difference between a spat between roommates and discovering your boyfriend is not the guy you thought he was. During the second season of Floribama Shore, Kortni was dating a guy named Logan — and the relationship quickly went downhill. So who is Kortni's boyfriend Logan and what is their relationship like now?
There is not a lot of information to be found on Logan, except for what he has done on the show. And from what fans have seen on the show, they do not believe he is a good guy. At the start of the season, when Logan was first introduced, he spoke down to Kortni after being out with her and her friends. He later confronted Kortni about her behavior because she had a little too much to drink, but she was not concerned about Logan's behavior at this point.
Unfortunately, as the season progressed, her relationship with Logan did not improve. Logan became possessive and jealous during phone calls with Kortni, especially when it came to her roommate, Jeremiah. Kortni also learned that Logan no longer had a job and was lying to Kortni, her best friend, and her mom. Both Kortni's friend and her mom tried to talk to Kortni about Logan, but Kortni did not heed their warnings.
In the preview for the next episode, it's suggested that Kortni might be pregnant — and it would likely be Logan's baby. This would obviously complicate matters even further for Kortni if she is, in fact, expecting a child. Though Kortni has not decided to end her relationship with Logan, if she was considering it... being pregnant with his baby might just change her mind.
However, mild spoiler alert, but based on pics that Kortni has shared recently, it does not look like she is pregnant now or that she has ever had a baby. In the same episode preview, Kortni says in her confessional that she is worried about whether or not her body can carry a baby, and she is also seen having stomach pain. Whether it was simply a pregnancy scare or not, there is no indication that she's pregnant now.
Additionally, though this has not played out on the show yet, it is evident that Kortni did eventually decide to end her relationship with Logan, and for good reason. Starcasm reported that Kortni and others apparently filed restraining orders against Logan, which he allegedly violated earlier this year.
Then, on Aug. 22, Logan was apparently arrested for aggravated stalking and violating the restraining order Kortni made against him, according to TMZ. Going against the restraining order, Logan had allegedly been sending Kortni text messages that said things like, "I still love you it's never gonna change, bye for now baby momma." He also allegedly added that he didn't care if he went to jail. According to TMZ, this was enough for Kortni to call the police.
Logan is reportedly still in custody, and it is unclear if he will actually serve any time at this point. The good news is that Kortni is safe, and hopefully this will be the end of what has become a very scary situation. Romper has reached out to Logan for comment.
Floribama Shore airs on Monday nights on MTV at 10 p.m. ET.