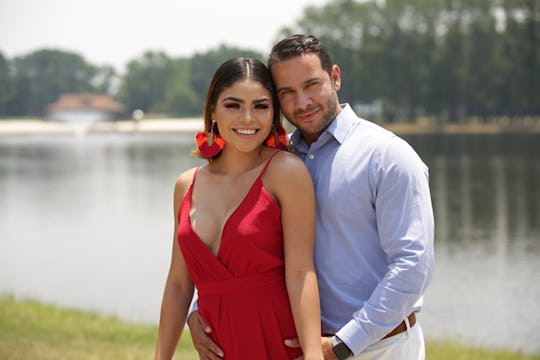 TLC
Jonathan Has A Lot To Say In The '90 Day Fiance' Trailer
Fans of 90 Day Fiancé are probably curious about the new crop of Americans looking for love overseas — and their partners. One of the people featured in Season 6 is Jonathan. So, who is Jonathan on 90 Day Fiancé? He and his partner had some interesting moments in the trailer.
Jonathan is a 32-year-old from North Carolina according to TLC's website about the 90 Day Fiancé Season 6 cast. He and his partner, Fernanda, have the largest age difference of the season: 12 years. Jonathan met Fernanda at a club in Mexico and after three months of dating, he proposed. Now that Jonathan is in his 30s, he believes that he's done with the "bachelor lifestyle" and wants to settle down. Fernanda, however, is not in the same place in her life. It seems like their age difference will certainly be a topic of discussion on the show, as TLC alludes to it in their cast breakdown: "Fernanda jokes that Jonathan is robbing her of her youth by tying her down at such a young age, but Jonathan sometimes wonders if their 12-year age difference could be the demise of their relationship."
These issues came up in the 90 Day Fiancé Season 6 trailer. "People say, 'Oh, 19-year-old, she's just using you,'" Jonathan says in a confessional, then comments, "Maybe she could be." Another issue crops up as well: Fernanda's jealousy. Later on in the trailer is a clip of Fernanda getting angry at a club because Jonathan is talking to another woman who he says is a friend. Jonathan comments in a voiceover that Fernanda can be jealous. In the next clip, Fernanda yells that she's in another country for Jonathan, and then says she wants to go home.
While fans will have to wait until the season really unfolds to find out if Fernanda and Jonathan are going to make it, sleuths already found both their Instagram accounts. Jonathan's Instagram account handle is @jonathan_myrealtor, so there's no mystery as to what he does for a living. His Instagram biography not only confirms that he is a realtor — and the owner of his own realty group, — but also that he's a Chicago native. Most interestingly, he has 90 Day Fiancé in his bio (as well as the date it premieres) and @'s Fernanda's profile as well. Oh, and Jonathan's profile photo is one of he and Fernanda. So if I was placing bets, I'd say this couple makes it.
But wait, there's more 90 Day Fiancé goodness on Jonathan's Instagram. There are a ton of photos of he and Fernanda together (the first one being from December of last year), and he even shared clips of the show. In one clip of the 90 Day Fiancé premiere, Jonathan says his life is "gym, work, play, repeat." He says that he works 12-14 hours a day as a realtor currently, but always makes time to go out with his friends.
In the second clip of the 90 Day Fiancé premiere, Jonathan explains that he "didn't expect his single life to end" so abruptly when he went on that fateful trip to Mexico with his friend. As life would have it, though, he met Fernanda. Jonathan described their first moments together, "I'm at the club, and I see this girl walking in with a long black dress. I finally make my way to the dance floor." He said, "I swear, it's like everything stopped. They spent an hour and a half on the dance floor — which is super impressive — and spent the rest of the night talking.
Fans will have to catch the premiere themselves to hear the rest of Jonathan's story — and to see Fernanda come to America to see if their 90 days will turn into a lifetime together — but I'm certain it'll be worth the wait.