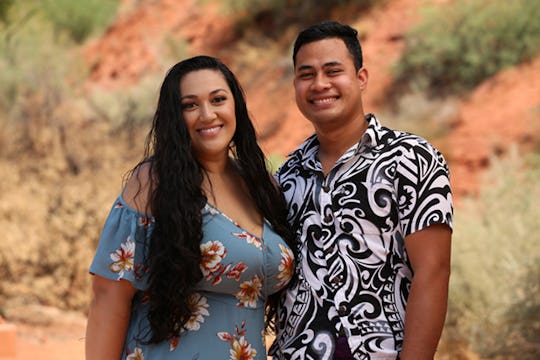 TLC
Kalani Explains Her Wild Story On '90 Day Fiance'
Out of all the new couples on this new season of 90 Day Fiancé, I'm especially excited to watch Kalani and Asuelu's story unfold. So, who is Kalani on 90 Day Fiancé? The Season 6 star has a unique situation on the show.
Kalani is a 29-year-old from California, according to TLC's press release about the 90 Day Fiancé Season 6 cast. Apparently Kalani and Asuelu met while Kalani was on vacation to Samoa, Asuelu's home country. That's not where their story ends: the two had sex — it was Kalani's first time — and she got pregnant. Kalani comes from a Mormon family and was expected to not have sex until marriage. Now not only has she had sex, but fast forward and now she has a five-month-old son with Asuelu.
When watching the trailer for 90 Day Fiancé Season 6 and hearing Kalani say she lost her virginity to a man she met on vacation, I couldn't imagine how her loved ones reacted to it. Knowing that she comes from a Mormon family and pledging not to have sex until marriage takes it to another level. It seems like TLC's press release read my mind, because they addressed her family's reaction: "Having to break this news to her family didn't give them the best impression of Asuelu, especially her father who doesn't trust him. Kalani's sister also has an issue with him as Kalani hasn't told her the full truth about their relationship."
Remember, Kalani and Asuelu are engaged (and presumably going to raise their child in the United States. TLC's preview continues, "Now with a five-month-old and only 90 days to impress her family, Kalani and Asuelu must work to overcome the obstacles ahead of them." The trailer also brought up her family's problems with Asuelu. In a clip of the couple and her family talking, Kalani's brother asks if they're doing this because of the baby. Kalani also remarks that she's struggling. Her brother says in a confessional, "He has no idea who my sister is. She does not need him."
From the trailer it seems that Kalani is very close with her family and wants to be a great mom for her son. I tried to find out more about her — mainly, finding her social media accounts — but came up empty. I'm sure fans will snoop around and find an account if she does have one, but perhaps she's old school and chooses to stay off social media.
Interestingly, Kalani is not the only mother this season. Olga and Steven also decided to get married after meeting and getting accidentally pregnant. Now both young couples (and new parents) are trying to work out their differences and give marriage a go.
Considering they already have a child together, there's another layer to Kalani and Asuelu's relationship that most of the others this season don't have. It's certainly going to change how the two feel about each other. To see whether Kalani and Asuelu's baby will be a big deal this season (though I can't imagine it not being), viewers have to keep up with 90 Day Fiancé.