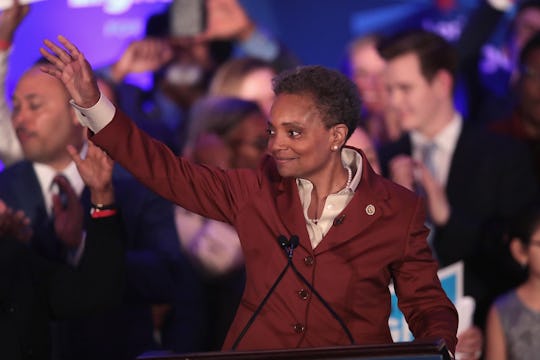 Scott Olson/Getty Images News/Getty Images
5 Facts To Know About Lori Lightfoot, Chicago's First Black Female Mayor
In a historic win on Tuesday night, Lori Lightfoot, Chicago's first Black woman mayor, beat opponent Toni Preckwinkle in a landslide victory. Not only did Lightfoot make history as the first African American woman to hold the seat, but she is now also the first openly gay mayor of the city, according to NBC News.
The first-timer in office is new to politics but has lived a lifetime committed to social justice and equity, according to Lightfoot's campaign website. For instance, as she notes on her bio, she was awarded the Champion of Justice Award in 2018 by The Common Cause and in 2017 she was named a "woman of influence" by the Chicago Business Journal. She has also won multiple awards for her service as a lawyer to the Chicago community, including the Chicago Federal Bar Association Walter J. Cummings Award for pro bono service in 2017 and BPI's Champion of the Public Interest Award in the same year.
But Lightfoot's extensive accomplishments are not limited to her mayoral win last night nor are they defined only by her long list of awards. After an impressive Election Day in which Lightfoot, 56, won all 50 wards in Chicago's mayoral race, according to the Chicago Tribune, here's everything you need to know about Lori Lightfoot.