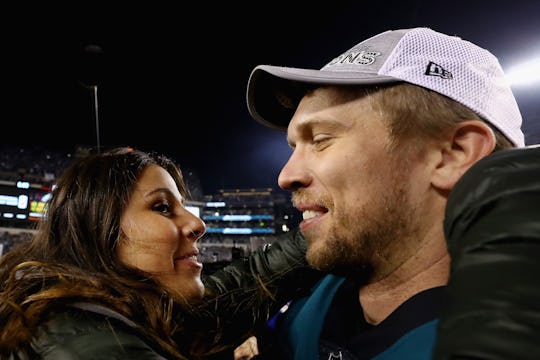 Al Bello/Getty Images Sport/Getty Images
Who Is Nick Foles' Wife? Tori Moore Was Also A College Athlete
As the first half of Super Bowl LII came to an end, and the Philadelphia Eagles walked off the field with a 22-12 lead on the New England Patriots, many viewers were probably surprised that the underdogs were up. Who knows? Maybe quarterback Nick Foles could carry his team to a Super Bowl win, after all. The football star's wife would certainly tell you that's going to happen. But who is Nick Foles' wife? Tori Moore is apparently the Eagles' biggest fan. She's also a former volleyball player for the University of Arizona, according to Earn The Necklace.
Apparently the athletic duo were college sweethearts, the publication reported. Tori Moore was a setter for the University of Arizona volleyball team at the same time Nick played football there. And did I mention the story of Nick and Tori's first meeting is one for the books? Because seriously, these guys are too cute.
"She was the first person I actually ever saw at the University of Arizona. I was going to my [football] physical. I remember walking down the stairs and thinking, 'Wow, this might be the most gorgeous person I've ever seen,'" Foles told Press of Atlantic City back in 2014. Although Foles and Moore never actually dated while in college, they did hang out with the same group of friends.
He continued:
It was one of those things where at some point the good Lord took the shades off both our eyes, and we just started talking and it grew into something that was always there, but we never knew it. It's crazy. I couldn't be more happy.
Not only are Nick and Tori Foles freaking adorable, but they're obviously totally there for each other. You see, Tori was diagnosed with Postural Orthostatic Tachycardia Syndrome (POTS) in 2013, which ultimately led to a diagnosis of Lyme Disease, reported Newsweek. In a blog post she wrote for The Increase Women, Tori opened up about her health struggles.
"For me, this illness has been a journey of faith, hope, and trust in the process that God has set out for me," she wrote. "Through my writing and my blog, I hope to be able to give some perspective on how to view difficult situations and help inspire people to find purpose in what they are going through."
Not to mention, Tori has been the biggest supporter for her husband in his pro-football career. "We've been on a wild journey in this NFL life, but we are blessed to be in the situation we are in," she wrote in her The Increase Women blog post. "We've learned it is best to just embrace this crazy lifestyle and enjoy the process that God is constantly crafting."
Tori and Nick got married in 2014, according to Newsweek — and they had their first child together in 2017 — a daughter named Lily.
On Tuesday, Nick Foles got emotional about having his family supporting him during the Super Bowl, reported SB Nation. "That's the most important thing when I think about this journey and everything," he said. "When I get home, I get to see her and I get to see my wife ... I know she's going to grow up, and I want her to be proud of her daddy."
Following the Philadelphia Eagles' surprising 41-33 win over the New England Patriots, Nick Foles has much to celebrate. The MVP quarterback came in as a backup to Carson Wentz after he suffered season-ending injuries during game 14, reported NFL.com. And against the odds, he led his team to the Super Bowl — and they won! Tori and baby Lily even joined Nick on stage as the team accepted its hard-earned trophy. (Did you see Lily's adorable, pink, noise-canceling headphones? Too cute!)
With a Super Bowl win under his belt and the two people he loves the most in this world by his side, Nick Foles is clearly on top of the world right about now. Congrats to the Eagles quarterback and his beautiful family!
Check out Romper's new video series, Bearing The Motherload, where disagreeing parents from different sides of an issue sit down with a mediator and talk about how to support (and not judge) each other's parenting perspectives. New episodes air Mondays on Facebook.