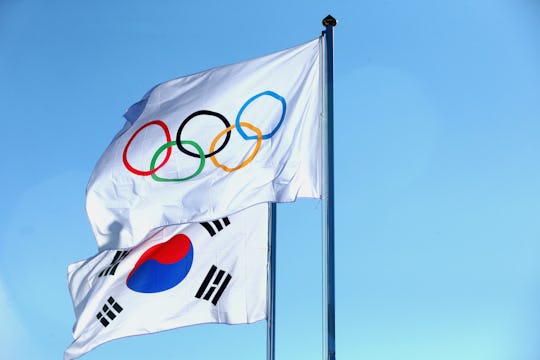 Alexander Hassenstein/Getty Images Sport/Getty Images
Here's Everything You Need To Know About The Olympics Opening Ceremony Performers
People all over the world are excited to watch athletes compete at the upcoming Winter Olympics — and some less athletically-inclined folks are super psyched for the games' opening ceremony. The Olympics, which are being held in PyeongChang, South Korea this year, get started on Friday, February 9. Plenty of details have been released about the kickoff event, but many are wondering the same thing: who is performing at the Olympics opening ceremony?
As it turns out, several K-pop artists are on the lineup for the opening ceremony, according to Billboard's scouring of Korean news sources. Ha Hyun-woo, lead vocalist of South Korean indie rock band Guckkasten, is reportedly on the bill. He is also known for appearing on the show King Of Masked Singer. Indie Ahn Ji-young, who is one half of the music duo Bolbbalgan4, will allegedly perform alongside the famous Korean rock band Deulgookhwa and its lead singer, Jeon In Kwon.
However, these announcements have not been confirmed by the official Olympics committee — and they likely never will be. A rep for the Olympics reportedly told Billboard that they are keeping the performers a secret in order to "surprise" audiences. So while the exact performers are still sort of a mystery, you can count on there being some sort of performance.
That being said, if you want to watch the opening ceremony live, you may have to sacrifice a little sleep. The PyeongChang opening ceremony will begin at 8:00 p.m. local time, which is 6:00 a.m. Eastern Time, and it will run for about two hours, according to Time. Dang. That's early.
In addition to the rumored K-pop performances, the Olympic opening ceremony will also feature the Parade of Nations, notes Time. The tradition, which features athletes marching into the arena with their country's flags, has been a part of each Olympic opening ceremony for over a century, since 1908. The theme of this year's opening ceremony is peace — a pretty significant choice, considering the fact that North and South Korea will march together as Korea under one flag at the opening ceremony. The unification comes from North and South Korea's recent decision to combine their women's ice hockey teams into one unified team. The rivalry between the two Koreas has kept them from marching together at an Olympic opening ceremony for over a decade.
And for those viewers in the Western Hemisphere who choose to wait until a more civilized hour to tune into the opening ceremony, NBC will be airing the festivities at 8:00 p.m. Eastern Time. This version will include additional commentary and interviews featuring hosts Katie Couric and Mike Tirico.
Vice President Mike Pence and Second Lady Karen Pence will also attend the ceremony as part of Donald Trump's U.S. delegation to the Olympics, notes Time. Here's hoping he actually sits through the whole thing this time — unlike he did at the infamous Colts game. Also attending the opening ceremony as part of the presidential delegation are the Honorable Ed Royce, Chairman of the House Foreign Affairs Committee, General Vincent K. Brooks, Commander of United Nations Command, General James D. Thurman, Former Commander of United Nations Command, Marc E. Knapper, Chargé d'Affaires ad interim, U.S. Embassy Seoul, and Sarah Hughes, 2002 Olympic Gold Medalist, Ladies Figure Skating.
NBC's official Olympic website has got you covered with how to watch the opening ceremony (as well as each and every Olympic event). You can watch it all on NBC, NBCSN, CNBC, and on other NBC Universal networks; or you can stream it on NBCOlympics.com or via the NBC Sports app. Happy Olympics!