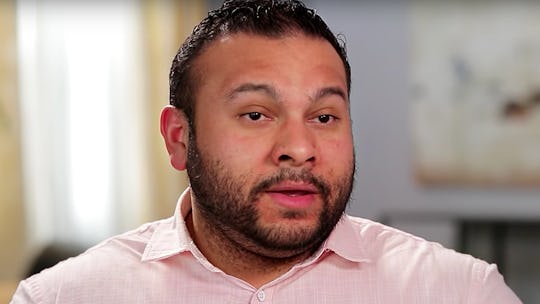 TLC
Ricky Has An Emotional Reveal About His Ex-Wife On '90 Day Fiance'
Ricky has such an interesting story on 90 Day Fiancé: Before the 90 Days, and it seems like more and more is revealed each episode. He told Ximena a lot about her during the finale, including some things about his ex, so fans are wondering: who is Ricky's ex-wife? The 90 Day Fiancé: Before the 90 Days star gives her a lot of credit.
While Ricky didn't name her, he talked about his ex-wife a lot during a heart-to-heart with Ximena. Specifically, Ricky talked about his custody battle for his daughter, Amber. "I've been married twice before, I have two kids — one from each marriage," he said during a confessional. "After the divorce process with my first wife, it was a year and a half [long] custody battle for my daughter, Amber, and my second ex helped me fight for custody. I think it's time to mention to Ximena that I'm in debt for the rest of my life to my second wife."
That's emotionally heavy stuff, but Ricky told Ximena all of it. Six years ago, when Ricky was in college, he didn't have money to get a lawyer to fight for custody of Amber. His ex gave him $30,000 to fund a lawyer. In the end, Ricky was granted full custody. He said through tears during a confessional, "I remember the day the judge said, 'I'm going to grant you full custody.' And I was happy." Not only that, but Ricky explained how that impacted his relationship with his ex — and how they will share that experience forever. Ricky said, "I explained to Ximena these details to explain to Ximena the implications, the magnitude of why I am in debt [to] my ex."
Ricky told Ximena this because while he doesn't think about her all the time, he'll forever have respect for her. During the episode, he also talked about his other ex — his first wife. Apparently, Ricky had texted his ex saying his relationship with Ximena was not that serious — and Ximena wasn't having any of that. Considering they just got engaged maybe 30 seconds before that, her reaction makes sense. Ricky said, however, that if his ex knew that he was engaged, then she would keep his daughter.
Regardless of whether that's true, Ricky and Ximena were engaged by the end of the finale. Viewers may be wondering if they're still together, or even if Ricky and Ximena are married by now. Well, there's no way to know unless they already did on the show; TLC seems like a huge stickler for spoilers. Thankfully, fans will probably find out during Sunday's tell-all special, but there are some clues to consider beforehand.
Ricky's Instagram is not really helpful in that department, as it's mostly linked to his photography business, Crown Film Productions. Ximena's Instagram account, however, may have a hint of two. In a photo Ximena posted in late September, the caption read, "here is no evil that lasts 100 years or a body that can resist it. Thank you for your support, I love you,As this story there are many in anonymity the important thing about this situation is that you get up every time stronger and with the lesson learned. Love is beautiful but do not believe in any clown who smiles kisses [sic]."
Some fans have interpreted that as shade towards Ricky. Since it occurred after an episode where Ricky revealed that he came to Colombia for Melissa and not her, Ximena may have posted that caption in reference to that incident. Even if that were the case though, it's not confirmation that they're over. Fans will have to watch the Before the 90 Days tell-all to see what Ricky says about both his ex-wives and his relationship status with Ximena.