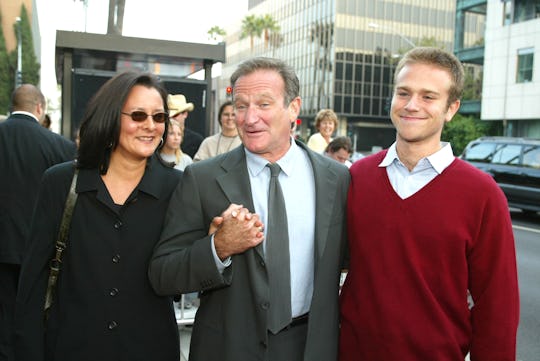 Kevin Winter/Getty Images Entertainment/Getty Images
Robin Williams' Son Opens Up About His Father's Struggles In New Documentary
In the new HBO documentary, Robin Williams: Come Inside My Mind, Williams' family and friends will discuss Williams' life on and off the stage. Williams is well-know for his comedic talents and the way he could bring so many different characters to screen. However, off stage his friends knew him as a kind and giving man, and his children knew him as a great dad. One of Williams' sons will be in the documentary, but who is Williams' son and what does he do now?
Williams' first marriage was to Valerie Velardi and the couple remained together for 10 years from 1978 to 1988. During that time, they had a son named Zachary Pym Williams, who was born on April 11, 1983. Now at the age of 35, Zachary, or Zak for short, is married to Alex Mallick, the executive director of Re:store Justice, a group that works with incarcerated men and women in California jails. The couple have been together since 2008.
Unlike his father, Zak decided not to go into show biz. Instead, he went to school and eventually got his MBA from Columbia University. However, similar to his father, Zak wanted to help people and make a difference in the world. He does that by bringing financial literacy education to at-risk communities.
In 2015, Zak was focused primarily on helping prisoners. He co-taught a weekly class to incarcerated individuals at San Quentin State Prison. In an interview with TODAY.com, Zak said, "I come from an entitled background where I could have not worked hard — just coasted for a chunk of my life, up to a point. But I opted to take pride and joy in the work that I do and to establish accountability."
For the most part, Zak keeps a low profile. Though he is on Twitter, it hasn't been updated since 2016. According to his LinkedIn profile, he currently works at Fizz.io, a tech company in San Francisco. Besides that, Zak appears to keep most details about his life private. However, in the new HBO documentary, Zak does open up about his dad.
In a clip from the new doc, Zak opens up about his father's struggles, particularly how he sometimes didn't feel like he was succeeding even though to Zak, his dad was "the most successful person I know." Williams' passed away almost four years ago when he was found dead from suicide at his home in Paradise Cay, California on August 11, 2014.
Along with Zak, Williams' was survived by his two other children, Zelda and Cody Williams, and his third wife Susan Schneider. Zelda and Cody are both the children of Marsha Garces, Williams' second wife. The couple was married from 1989 to 2010. It's unclear whether or not Williams' other family members will appear in the documentary, though there's been no mention of them ahead of the documentary's premiere, so it seems unlikely. Additionally, both Zelda and Cody stay out of the spotlight so it would be a rare appearance for them if they did take part.
That said, a number of Williams' colleagues and friends will also appear in the documentary, including Steve Martin, Billy Crystal, David Letterman, and Pam Dawber, who starred in the series Mork & Mindy alongside Williams. They each have their own anecdotes about Williams' work as well as who he was when the cameras were off. Marina Zenovich directed the documentary, and it's already being hailed by critics as a wonderful exploration of Williams' work and life, as well as a must see for fans of the late actor.
You can see Robin Williams: Come Inside My Mind when it premieres tonight at 8 p.m. EST on HBO.