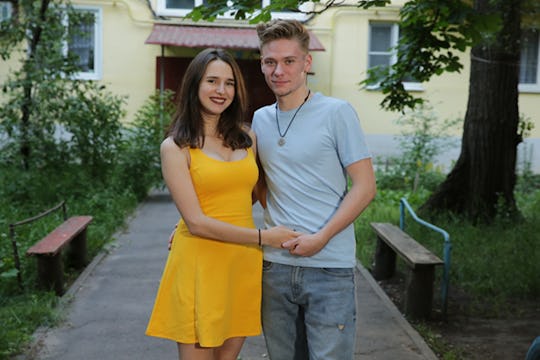 TLC
Steven's Story Is Pretty Unique On '90 Day Fiance'
90 Day Fiancé: Before the 90 Days may be over, but fans don't even have to wait more than a week for the new season of the OG, 90 Day Fiancé to begin. Seeing as the entire cast is fresh faces, fans are probably wondering: who is Steven on 90 Day Fiancé? He's one of the youngest members of the cast.
According to TLC's biography of the 90 Day Fiancé Season 6 cast, Steven is a 20-year-old from Maryland. His fiancé is Olga, a 20-year-old from Russia. Unlike many other multi-national couples that viewers will see on the show, Steven and Olga first met in-person, not online. Olga was studying in the United States and the two spent the summer together. What makes their relationship more than a summer fling is that Olga became pregnant.
Steven's dad passed away when he was seven, TLC's biography states, so in turn he wants to be there for his child. Even though Olga had to return to Russia, he proposed to her. Now she's back and they're determined to get a K-1 visa so Olga can remain in the United States. TLC warns viewers about her and Steven's upcoming drama this season, though: "But will Olga's visa get approved in time to make it to the U.S. before she gives birth?"
The internet doesn't seem to have found Steven's social media profiles yet, so most of the information fans learned about him leading up to the season premiere is from the 90 Day Fiancé trailer. There are two clips of Steven and Olga, the first is when they are arguing about the car. "You're not going to tell me not to touch my son," Steven tells Olga, who then says he's acting "crazy." Later on in the trailer, Steven reveals in a confessional that, "I don't know if I'm ready to be married for the rest of my life." In a clip where he talks to friends (in the presence of Olga), he says, "It wouldn't have happened without the baby" — presumably referring to the marriage and whole visa process.
As soon as the season starts, I'm sure fans will learn more about Steven, through 90 Day Fiancé episodes and by doing a little digging to find any social media profiles he may have. In the meantime, though, there are plenty of other cast members to learn about. There are six couples on this season of 90 Day Fiancé, and all of them are new to the show.
Interestingly, Steven and Olga are not the only parents this season. There have been parents on the show before — take Rachel on Season 2 of 90 Day Fiancé: Before the 90 Days, for example — but they didn't have the child with their current partner. This time around, however, two couples — Steven and Olga as well as Kalani and Asuelu — have had children together. Kalani is from California and Asuelu is from Samoa.
Now, both of the foreigners are arriving in the U.S. to see if they and their American partners are the perfect match — and if they will actually get married. Viewers can catch Steven and all the rest of the cast on 90 Day Fiancé on TLC.